An Open Letter on the Prospect for Change
March 10, 2016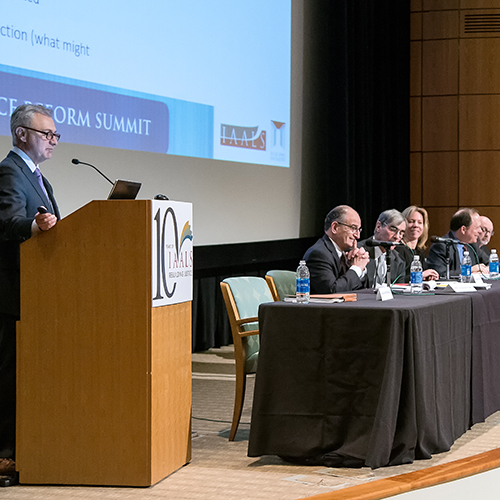 I recently attended IAALS' Fourth Civil Justice Reform Summit and served as a faculty member on several panels. It never fails that I come away from these gatherings with more ideas. I began to take notes on this question:
"What can we do to effect the changes to the Federal Rules of Civil Procedure?"
We need to incentivize judges to implement these rules changes by publishing statistics. Internal reports can have an impact, and once these reports are shared internally, then we can push to share them publicly.
Education is critical. We need programs, not just for the judge, but for chamber's staff. Some judges have experience as case managers, or have supervised workers in a past life; some have not. In this regard, there should be a seminar for judges and staff on civil case management.
There needs to be more discussion about a judge's job description that includes the dual role as decision maker and service provider. This is another area for education.
Case management does not mean a judge dictates the schedule. I have always been a believer that you need to get buy-in from the lawyers and you do that by having an early dialogue about the direction of a case and having them participate in scheduling decisions.
The more we explain proportional discovery, the more buy-in we will have. My experience has been that lawyers and clients like it—once they understand it. As the rules are implemented in a way that fosters proportionality, without closing off discovery, lawyers will become more comfortable with the concept.
I have been promoting Rule 1 for some time and smile now when I see it appear in written papers or oral arguments. Recently I had a pro se plaintiff cite Rule 1. Success in small steps! This, again, is another example of judges being able to corral support in the legal community—all players in the legal system.
While they can lead to complexity and cost for those litigating across multiple jurisdictions, local court rules, judges' standing orders, and other nuances are here to stay. Let's take advantage of this and actively promote local rules and individual judges' practices that embody best practices. We need to push for sample local rules that backup the changes to our Federal Rules of Civil Procedure and help create a more cooperative culture.
Judges are needed at the forefront of these changes, but we can't order cultural change. It has to come from everyone who participates in the system. There are many legal organizations that we should be utilizing to spread the word, such as the ABA, state and local bars, Inns of Court, the Federal Bar Association, patent law, antitrust and other specialized practice groups—on and on. And beyond that, not just the lawyers who are regular users of our system, but also their clients. We ought to be asking general counsel and trade associations to join the effort. The larger law firms should also be on our hit list. Speakers can also be added to new lawyer programs. Finally, as indicated at the Summit, judges can condition pro hac vice approval by promoting codes of civility.
I return home excited about the prospect for change!