Pace of Pro- and Anti-Retention Ads Picks Up in Tennessee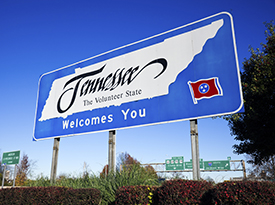 With Tennessee's August 7 judicial retention elections just over two weeks away, the TV ad war is escalating. According to the latest figures from Justice at Stake, the Brennan Center for Justice, and the National Institute for Money in State Politics, the Tennessee Forum has spent nearly $120,000 on an anti-retention TV ad, while campaigns supporting the justices' retention have spent just over $200,000 on television advertising.
The Tennessee Forum's TV ad first aired on July 19, describing the Tennessee Supreme Court as "the most liberal place in Tennessee." The ad also charges the court with being liberal on crime and advancing Obamacare. The first pro-retention ad, which began airing on July 10, portrays the justices as supporting the federal and state constitutions "faithfully and impartially," supporting individual rights including the right to bear arms, and upholding 90 percent of death sentences. (View the ad here.) A second pro-retention ad was released on July 19 and features former Republican Chief Justice Mickey Barker charging that "out-of-state special interests are trying to take over our Supreme Court" and describing the justices as having "served with distinction." (View the ad here.)
The Tennessee Forum has also invested in direct mail advertising, urging voters to "Drop the hammer on Tennessee's liberal justices."
A media fact-check of early advertising efforts revealed that the supreme court had upheld 90 percent of death sentences but had never decided a case where the Second Amendment was at issue. At the same time, the court had also never been asked to rule on Obamacare.
Early voting for the August elections began on July 18.