The Process for Improving the American Legal System: IAALS 2014 Annual Report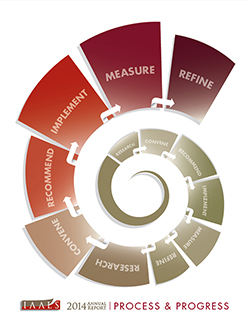 IAALS is committed to advancing excellence in the American legal system. Over the last eight years, our impacts have been felt across the country.
A critical component of our success lies in our approach to tackling the challenging issues we face. Our process is our foundation. It guides our work. It informs every issue we tackle, every project we undertake, every recommendation we make.
The IAALS Process distinguishes us as unique in the field of legal reform.
Showcased in our 2014 Annual Report, this process is a continuous improvement cycle with foundations in research, collaboration, innovation, and action.
We've applied this process to advance courtroom efficiency, increase access to justice, modernize legal education, improve judicial selection, and provide better avenues for divorcing families.
Of course, this progress could not be achieved without countless people, including you. We share this report with you, knowing that your ongoing interest and support is invaluable to our process and work. Thank you.