Remembering IAALS Co-Founder John Moye
May 31, 2022
With great sadness, IAALS mourns the passing of John E. Moye, one of our founders. John was a visionary in the practice of law and an innovator within our legal system. His passion for justice and the betterment of society were at the forefront throughout his life and career, and he was recognized as a "Lawyer of the Decade," within countless Top 10 lists, and among the best lawyers in Colorado and nationally. John was a respected businessman, author, professor, and lecturer with "a legendary energetic personality." As Coloradans, we are proud to have had John among our leaders—and at IAALS, we are proud to have had him as family. He will be greatly missed.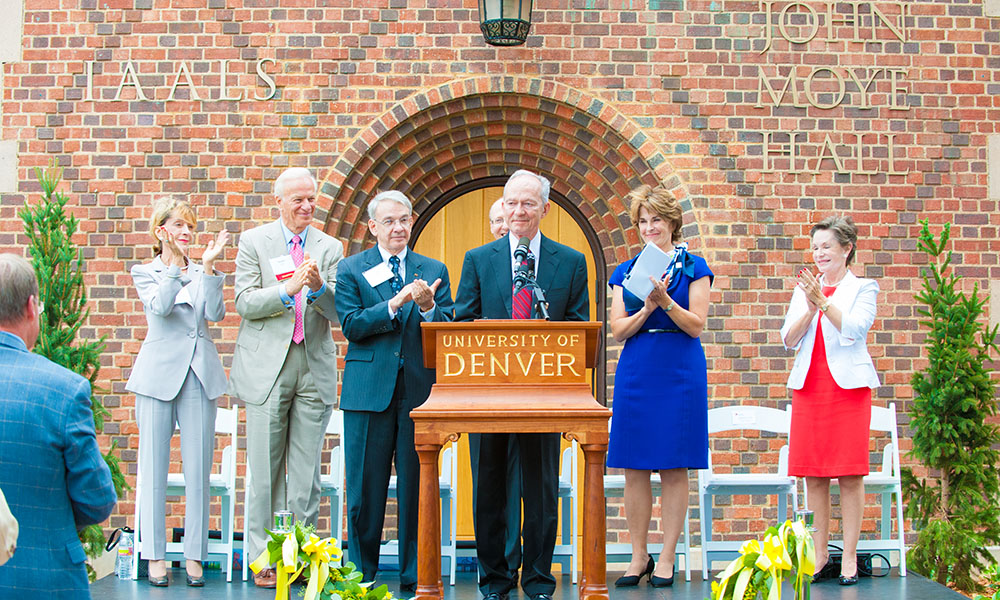 John was among the brilliant coalition who conceived and established IAALS in 2005–2006, alongside Dan Ritchie, Charlie Gates, and Rebecca Love Kourlis. The amount of time, energy, and passion that John devoted to IAALS in those early years and throughout our history cannot be overstated. His counsel, support, and strategic thinking provided the roadmap for our success. And thanks to his fundraising help, the signature building on the University of Denver campus that is IAALS' home also proudly bears his name: John Moye Hall.
"I can't say it in rap or rhyme, and I can't spin it on a vinyl; but, simply put, John's heart was as big as his brain," said IAALS Founding Executive Director Rebecca Love Kourlis, noting John's love of music, which he often used to help teach complex legal topics. "IAALS grew out of a cocktail napkin conversation with John, and he walked side by side with all of us for more than a decade, contributing hours, wisdom, and energy. His legacy will echo and inspire for decades to come."
Moye White—the highly respected full-service business law firm that John established, built, and led for over 40 years—was a founding member of our Law Firm Council, a national group of firms whose members function as our "boots on the ground" by helping IAALS identify emerging issues and by providing feedback on our work as it develops. John always understood that for meaningful reform to take hold, we need everyone at the table—with many different perspectives and experiences.
John was also an accomplished legal educator. From 1974-1979, he served as Professor of Law at the Sturm College of Law, during which time he was recognized by students on four occasions as Professor of the Year. From 1974-1976, he served as Associate Dean of Academic Affairs under legendary Dean Robert Yegge. He also became a nationally recognized bar review lecturer—training an estimated 400,000 U.S. law graduates in contract-related subjects through innovative teaching methods, including the distillation of leading concepts in contract law in rhyming couplets. For his contributions to legal education, he was awarded the Robert B. Yegge Excellence in Teaching Award and an honorary Doctorate in Law from the University of Denver.
"Blessed with a commanding knowledge of the Uniform Commercial Code, a talent for clarity and concision, prodigious musical ability, a dry wit, and boundless energy, John was a truly gifted scholar-teacher," observed Sturm College of Law Dean Bruce Smith. "And his contributions to legal education went well beyond his classroom teaching. During the 1970s, working alongside Dean Robert Yegge, John indelibly shaped the future trajectory of the Sturm College of Law, supporting the recruitment of outstanding faculty, advancing interdisciplinary legal study, and advancing diversity in legal education. Although we will miss John greatly, his impact on our graduates—and our law school—will endure."
In 2017, John participated in IAALS' Partner Profile series, which gave a lighthearted glimpse into our partners and friends upon whose support and guidance we rely. John's answers to our questions provide a window into his life and values:
What's your idea of perfect happiness? My idea of perfect happiness is enjoying healthy and vibrant relationships with the people with whom I spend most of my time: my wife, my children, my grandchildren, my partners, my clients, and my friends. If at the end of the day, I can say I spent worthwhile time with them, well then I'm perfectly happy.

What do you consider your greatest achievement? It is difficult to rank one over another. Starting my law firm over 40 years ago has been an important achievement in my life. Being a founder and board member of IAALS is also one of my achievements for which I am very proud. Having the opportunity to be involved in the work of IAALS is something that I will be proud of forever.
When we come to John Moye Hall each day, we will remember John's passion for justice and the work of IAALS—memories that will continue to renew our own commitment to the institution he helped found and the mission he so vitally and effectively worked to support.