The Resource Center Interdisciplinary Team: A Psy.D. Student Perspective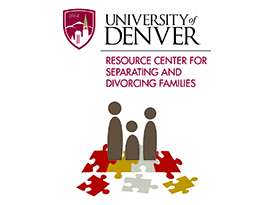 The Resource Center for Separating and Divorcing Families provides interdisciplinary services to separating and divorcing families, and is based on a model that IAALS developed and implemented on the University of Denver campus. The Resource Center is also an unparalleled teaching model for graduate students from diverse disciplines: psychology, social work, and law. This article is the first in a series of student perspectives on the Resource Center, its interdisciplinary learning environment, and the incredible impact the model is having on area families.
The Resource Center for Separating and Divorcing Families (Resource Center) provides graduate students with the opportunity to gain real-life experience within their disciplines. One of the many components of the Resource Center's philosophy is that services are to be provided by an interdisciplinary team of students, under the direction of professional supervisors. In other words, the Resource Center requires students to engage in a large-scale, long-term group project.
As a student, the idea of a group project can evoke many negative thoughts and feelings. When assigned a group project, one may worry about who is going to be assigned to the group, how work is going to be delegated, what issues are going to arise, and how much effort people are going to put into the project. For all of these reasons, working in a group can be tricky. However, group work can also lead to increased brainstorming, creativity, and productivity, which is why group projects are so frequently assigned.
When I began working at the Resource Center in the fall of 2013, I had my reservations about this "group project." But, at the same time, I was excited to meet other students and work collaboratively as a treatment team. Thus far, my experience at the Resource Center has defied all of my preconceived notions about working with a group. The work has not only been effective in serving families, but it has also extremely rewarding for me as a student in training.
As an interdisciplinary team, the students at the Resource Center provide services to families going through separation and divorce that they cannot get anywhere else. The comprehensive suite of services provided wouldn't be possible for any one of us to offer singlehandedly. However, when we put our heads together, so to speak, we have the ability to help families go through the entire process, beginning to end, from all angles.
It has been enlightening to see how students and professionals from other disciplines conceptualize cases and approach issues in different ways. Additionally, it has taught me to consider different perspectives in my role as a mental health provider.
Mental health professionals traditionally help people to relieve the pain caused by psychological distress. It is not uncommon for individuals going through divorce to experience symptoms of depression, anxiety, and stress, which is why the Resource Center aspires to provide mental health treatment among its array of services. As a mental health provider, it is my job to look for these signs of distress, and for ways in which I can relieve it. However, working as part of an interdisciplinary team spreads our focus beyond the mental health issues. I have learned to approach families in a more holistic fashion, taking note of all of their broader needs rather than focusing solely on the needs I am more practiced at serving. This approach provides families with a more rounded experience, and allows our team to learn from one another as our professions work together in tandem.
While the Resource Center provides families with comprehensive, holistic services, it is concurrently providing students with the opportunity to become more open minded about ways of working with families in the community. The experience has been invaluable, and one that will continue to serve me in the rest of my career as a mental health professional. I have learned to see beyond the confines of my profession and consider the variety of issues that families can present with during this difficult transition. Having learned how important it is to view each client from multiple perspectives, I have gained a whole new appreciation for the concept of a "group project"—and what it can mean for families in need.