States Look Beyond Bar Exam to License Lawyers
July 19, 2022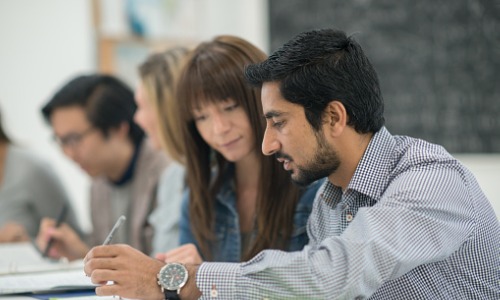 The COVID-19 pandemic forced unprecedented modifications to nearly every profession across the globe—among them, the legal profession and its bar exam. While some jurisdictions adjusted test dates and methods, with some administering the exam remotely, others—such as Utah, Louisiana, and Washington—created or expanded opportunities for new law school graduates to enter the profession. These new opportunities ran adjacent to or bypassed entirely the bar exam.
The bar exam has been under growing scrutiny, due to the undue financial burden it places on law graduates as well as its long history of disparate racial outcomes. In addition, minimum competence—the very thing the exam purports to assess—has historically lacked a comprehensive, evidence-based definition, prompting some to say that it's "ineffective in gauging the knowledge and skills new lawyers need to be successful." IAALS' Building a Better Bar project provided the first empirically grounded definition of minimum competence and offered recommendations for how  our process for licensing lawyers must change to better serve the public; our findings indicate that many aspects of the current bar exam, including multiple-choice questions, time constraints, and being closed-book, fail to align with what we know about how to best assess minimum competence to practice law.
Fortunately, however, a growing number of states are now exploring the permanent implementation of alternative licensure approaches that would allow law school graduates to obtain their license through nontraditional avenues.
Oregon
Oregon's Alternatives to the Bar Exam Task Force (the Task Force) submitted its recommendations to the Oregon Supreme Court in July 2021. Their recommendations relied heavily upon IAALS' Building a Better Bar research and, ultimately, propose two new paths to licensure:
The Oregon Experiential Pathway (OEP): A curriculum-based pathway in which law students would be required to complete a rigorous set of experiential learning credit hours. At the end of law school, students would submit a capstone portfolio that the Oregon Board of Bar Examiners would use to assess minimum competence.
The Supervised Practice Pathway (SPP): A practice-based pathway in which law graduates would engage in law work under a supervising lawyer for 1000–1500 hours. Once the supervised practice hours are completed, the applicant would submit a portfolio of work samples that the Oregon Board of Bar Examiners would use to assess minimum competence.
The Oregon Supreme Court has approved of these two new paths "in concept" and charged the Task Force with creating a new committee to propose a detailed plan for implementation. The work of that committee is underway now.
California
In Oregon's neighboring state, the California Supreme Court assembled its Blue Ribbon Commission on the Future of the California Bar Exam in April 2021. The commission is developing "developing recommendations concerning whether and what changes to make to the California Bar Exam, and whether to adopt alternative or additional testing or tools to ensure minimum competence to practice law." Two subcommittees are exploring exam-based and non-exam-based licensure approaches, and the commission plans to present a final report later this year.
Minnesota
The Minnesota Board of Law Examiners is underway with a two-year study taking a comprehensive look at the bar examination and its history in Minnesota, the implications of being a Uniform Bar Examination (UBE) state, and the potential for implementing alternatives for determining minimum competency to practice law. The board will host several meetings and public hearings, as well as solicit a broad range of stakeholders for input throughout the process. Lastly, the board plans to survey other states exploring this subject, and will use the information gleaned to make its recommendations to the Minnesota Supreme Court in 2023.
New York
In June 2021, the New York State Bar Association called for the establishment of a working group that would, in conjunction with the Board of Law Examiners, develop a bar exam that's fair, equitable, and encourages the study of New York state law. In addition, the bar association recommended two alternative paths to bar admissions that are similar to those proposed in Oregon: a pathway through a study that would focus on New York state law while in law school, and a pathway through supervised practice combined with law school achievements.
Other Avenues for Licensure
States exploring alternatives to bar exam-based licensure have looked not only at the emergency pandemic alternatives put in place, but also to Wisconsin's longstanding diploma privilege program and to New Hampshire's Daniel Webster Scholar Honors Program.
Although diploma privilege was not invented in Wisconsin, it was the last remaining state to offer it until the Daniel Webster Scholar Honors Program was established in 2005. In order to qualify for Wisconsin Diploma Privilege, a student must be awarded their JD degree from one of Wisconsin's two law schools, and they must satisfy specific academic and character and fitness requirements. "The success of Wisconsin's rigorous system is confirmed when Wisconsin law school graduates take Bar exams in other states," wrote former Chief Justice Shirley Abramson in a letter to the ABA Center for Professional Responsibility.
Another program is the Daniel Webster Scholar Honors Program, established in 2005 at the University of New Hampshire Franklin Pierce School of Law. Students begin the program before their second year of law school and learn a host of practical skills, such as counseling clients, taking depositions, appearing before judges, and negotiating. Throughout the program, they create portfolios of written and oral work that are assessed by bar examiners every semester; upon completion of the program, students are sworn into the New Hampshire State Bar.
In 2015, IAALS conducted an evaluation of the Daniel Webster Scholar Honors Program to analyze the program's outcomes. Through focus groups and interviews, we learned that:
Members of the profession and alumni believe that students who graduate from the program are a step ahead of new law school graduates;
When evaluated based on standardized client interviews, students in the program outperformed lawyers who had been admitted to practice within the last two years; and
The only significant predictor of standardized client interview performance was whether or not the interviewer participated in the Daniel Webster Scholar Honors Program. Neither LSAT scores nor class rank was significantly predictive of interview performance.
This innovative combination of formative and reflective assessment in a practice-based content—with a focus on collaboration between the academy and the profession—is why IAALS believes other jurisdictions should look to the Daniel Webster Scholar Honors Program as an example of preparing new lawyers to venture into the profession with the skills they actually need to succeed in today's legal marketplace.
States like Oregon, California, Minnesota, and New York are embracing the reality that there can be multiple paths to becoming a lawyer—and that what really matters when it comes to licensure is that those who practice law are equipped to do so. We can and must create approaches to licensure that provide fair, valid assessment of minimum competence, and serve as equitable means to joining the legal profession.
Dive Deeper
The legal profession has never had a clear, explicit understanding of the minimum competence needed to practice law and how it should be tested on the bar exam (or through other licensing approaches). In this report, we have defined minimum competence and have new recommendations for how the legal licensing process—including the bar exam—must change to better serve the public.
Read More