Teaching Access to Law through Unbundling
October 9, 2018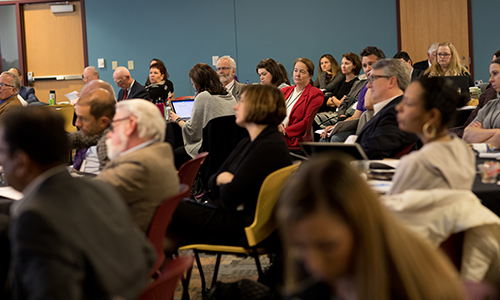 Teaching unbundling, or limited scope representation, in law schools is necessary for new lawyers to develop the skills they need to operate in today's changing legal services market. Legal services consumers want greater access to law and justice. To address that need, courts and law libraries now have self-help centers that offer information, forms, and limited assistance on navigating law and legal procedures. Most of these materials and guides are available online, and legal services consumers use these resources as a starting point but often need to and want to consult with lawyers or other professionals that can assist them further.
Unbundling legal services permits attorneys to assist clients on a particular task but not take on full representation. In this context, a lawyer may serve as a coach, a scrivener, or an advocate at a mediation or court hearing. Lawyers still owe the same ethical duties to their clients as they would with full representation. Still, some lawyers regard limited scope representation as suboptimal, particularly for unsophisticated legal services consumers. However, when full representation is unattainable as a result of cost or unavailability of lawyers in their community, legal services consumers are increasingly seeking more limited professional assistance.
The practice of unbundling is becoming more and more common, and an entire industry of online services providers now exists that contract with lawyers to connect them with people who need legal assistance. There are even attorneys whose entire law practices are based on the unbundled model, which are often assisted by technology and/or paraprofessionals that can help turnaround with greater case volume without compromising quality.
But how do we increase their availability further and help more lawyers understand the benefits of offering unbundling? This was the subject of the Better Access through Unbundling Conference at which I spoke about models for teaching newly admitted lawyers—and even seasoned practitioners—to provide unbundled legal services. IAALS has also recently released a report outlining the conference takeaways and recommendations to advance unbundling.
The teaching of limited scope representation is already occurring through continuing legal education programs offered by the bar or through post-graduate law firm incubator programs. But education surrounding unbundling needs to start much sooner. Law schools and legal educators must now incorporate instruction of client-centered models, like unbundling, so that future lawyers can more easily serve these clients' needs. Some pro bono program coordinators and clinical faculty are already introducing limited scope representation to their students as a practical matter—but more emphasis must be made in embracing these client-centric approaches. 
A course in Professional Responsibility is a good vehicle to teach unbundling, as that is the only course required of all ABA-accredited law schools. Engagement of limited scope in the law school classroom, through ABA Model Rules of Professional Conduct 1.2, would encourage greater discussion about the latent market for legal services, the need for client-centered lawyering, access to justice, and the viability of lawyers who work in communities where such practice is a necessary component of their work.
Teaching unbundling to future lawyers is critical to ensuring more client-centered services—and greater access to justice. Law schools are instrumental this process by helping to introduce the practice through pro bono, clinics, professional responsibility courses, and post-graduate incubators.
For those interested in doing more to introduce unbundling in law schools, please click here for additional resources and read IAALS' conference report for more information.