Teaching Evidence Law in a Trial Advocacy Context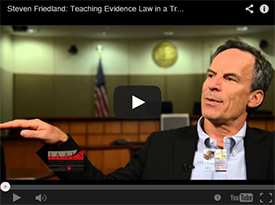 Professor Steven Friedland of Elon University School of Law uses a problem-based teaching method to guide his required, upper-level Evidence Law course. Drawing upon his trial experience as a prosecutor, Friedland's course is conducted as a form of "applied trial advocacy," as opposed to the more traditional "case review" method.
In using the trial context to teach students the law of evidence, Professor Friedland engages his students through group strategizing and problem solving, direct- and cross-examination exercises, the examination of expert witnesses, laying foundations for exhibits, hearsay statements, and other rules, and a final trial at the end of the semester. Relaying the learning objectives in real-world contexts helps students relate better to the content, both immediately and in the long-term, and provides opportunity for meaningful feedback. Friedman tracks student progress through a series of problem and answer assignments, non-graded pop quizzes, the review of evidence bar exam questions, a mock trial or observation of a real trial proceeding requirement, and a final examination.
Overall, the Friedland charts a course that guides this students through all three of the Carnegie apprenticeships, integrating cognitive learning with hands-on, "learning-by-doing" experience, and the formation of a professional identity. Through this innovative approach, Friedland hopes to accomplish four learning goals for students:
Be able to use the Rules of Evidence
Apply the rules clearly and concisely in writing
Recognize and become familiar with lawyering roles and relationships
Be able to engage in competent statutory construction
Legal education should engage, challenge, and prepare students for a life-long career, not just the first day of law practice. As an instructor, I really serve as a guide, helping students in a dynamic collaboration to go as far as possible toward expanding their skill sets and values, not just the pizza delivery of a body of information. As William Butler Yeats once said, 'Education is not the filling of a pail, but the lighting of a fire.'
And, this innovative approach to teaching will likely continue to grow support at Elon, which just announced that Luke Bierman will be taking the helm as dean of the law school, effective June 1 of this year. Bierman is an Educating Tomorrow's Lawyers Advisory Committee member and Associate Dean for Experiential Education at Northeastern University School of Law, an ETL Consortium School.
The full Evidence Law course portfolio is available online, including teaching objectives and outcomes, application tools, videos, course materials, and student work.