Today: Educating Tomorrow's Lawyers and Supporting Today's Lawyers (Webcast Available)
January 29, 2014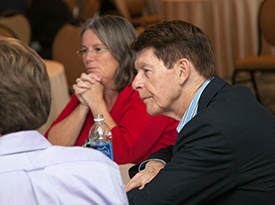 The New York State Bar Association is devoting a segment of its annual meeting to two themes that have emerged with increasing urgency in bar associations around the country: "Educating Tomorrow's Lawyers" and "Supporting Today's Lawyers."
I'm here in New York to participate in person, but I just learned that you can tune in at 2:00 pm ET to view the full Presidential Summit, which serves as the centerpiece of the NYSBA's week-long annual meeting.
It kicks off with a keynote presentation by my predecessor, William Sullivan, the founding director of Educating Tomorrow's Lawyers and the lead author of the 2007 Carnegie Report, Educating Lawyers, and continues with a great line-up of people who will address the challenges in legal education, including cost, curriculum, and the relevance of the bar exam, and challenges in the profession, including new technology, client demands, and changes in law related services.