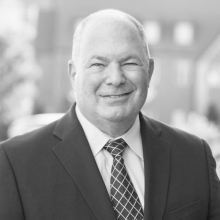 David Yellen is a former CEO of IAALS.
He previously served as Dean and Professor of Law at Loyola University Chicago School of Law for 11 years, from 2005-2016. During this time, Loyola was recognized as one of the most innovative law schools in the country. Yellen was frequently included on National Jurist magazine's list of the 25 Most Influential People in Legal Education.
Yellen is a former faculty member of Hofstra Law School, where he held the Max Schmertz Distinguished Professorship and served as Dean. He has also been the Reuschlein Distinguished Visiting Professor at Villanova University School of Law and twice served as a visiting professor at Cornell Law School.
After Loyola, Yellen served as President of Marist College from 2016-2019. At Marist he led the planning of a new medical school among other projects.
Yellen has been active in pro bono and community service work.  In addition to serving on a number of not-for-profit boards, he led an inquiry into police torture in Chicago and argued a federal sentencing case at the United States Supreme Court.
Before beginning his academic career, Yellen clerked for a federal judge, practiced law in Washington, D.C., and served as counsel to the Judiciary Committee of the U.S. House of Representatives.