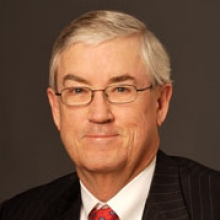 Senior Of Counsel, Davis Graham & Stubbs LLP
Dick Holme has tried almost 70 jury trials, including those while he was a Deputy District Attorney in Denver (1969-71), numerous trials to courts, and several arbitrations. He has been a fellow of the American College of Trial Lawyers since 1983 (Colorado State Chair, 1994-96). His varied commercial litigation practice has included defense of a breach of fiduciary duty claim challenging one of the largest land sales in Colorado history; a commodities fraud case involving hundreds of investors and claims for almost $100 million in losses; class actions for wide-spread environmental contamination; and arbitrations involving complex patent claims and employment claims involving damages of eight figures. He has also litigated and tried major contract actions, employment and discrimination issues, condemnation suits, and patent, intellectual property, trade secrets, product liability, securities fraud and natural resources cases. He has handled a number of major constitutional cases, including successful challenges to prohibitory billboard laws in Colorado and Maine, raising issues of free speech and takings without compensation; land use planning and zoning challenges; the validity of lobbying regulations; and a wide range of First Amendment issues in connection with the regular representation of Denver's NBC television affiliate and other media clients by Davis Graham & Stubbs LLP. Mr. Holme has briefed and argued numerous appellate court matters around the country.
Mr. Holme was appointed by the Colorado Supreme Court to serve two terms as a member of its Grievance Committee (1979 - 1985), and is now a member of the Colorado Supreme Court Standing Committee on Civil Rules. He served as first vice president of the Denver Bar Association (having previously been a member of its Board of Trustees from 1977 to 1980), and has served six terms as a member of the Board of Governors of the Colorado Bar Association (1974-1976, 1985-1987 and 1995-2003). He also served on the governing Council of the Litigation Section of the Colorado Bar Association (1982-1984). He is listed in The Best Lawyers in America® in the areas of Appellate Law and Litigation: First Amendment and has been selected for inclusion in Colorado Super Lawyers by Thomson Reuters.