2016 Marks 50th Anniversary of Merit Selection for Judges in Colorado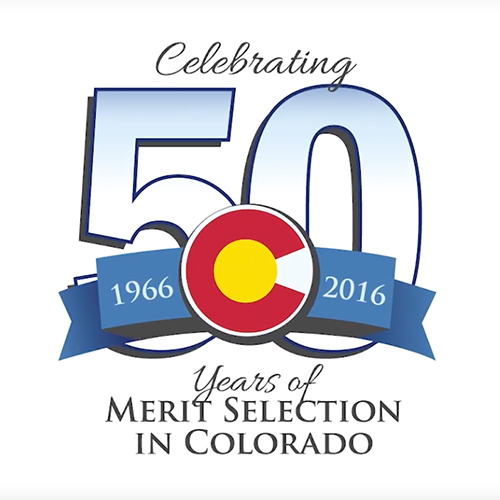 Since Colorado is IAALS' home base, we are thrilled to join in the celebration of the state's 50th anniversary of the adoption of merit selection for judges.
Colorado was at the forefront of a national merit selection movement that took place in the mid- and late-twentieth century. Missouri was the first state, in 1940, to adopt merit selection, and it celebrated its 75th anniversary last year. Two other states moved to merit selection for at least some judges in the late 1950s, and Colorado was one of four states to do so in the 1960s.
In 1966, Colorado voters approved a constitutional initiative that replaced contested judicial elections with commission-based gubernatorial appointment—popularly known as merit selection—of judges. The initiative's strongest proponents were the Colorado Bar Association, which began the effort as early as 1947, and the League of Women Voters of Colorado, which joined the campaign in 1957.
In the 1970s, 80s, and 90s, an additional twelve states adopted judicial merit selection. Since that time, no state that enshrined merit selection in its constitution has later returned to contested elections or a pure appointment system.
Under Colorado's merit selection process, a nominating commission of attorneys and members of the public screens and interviews applicants for judgeships and recommends the two to three best qualified to the governor for appointment. After at least two years in office, judges stand in a retention election, in which voters are asked whether judges should remain in office. If retained, judges then serve terms ranging from 4 to 10 years, depending on the court on which they serve.
Colorado established a judicial performance evaluation program in 1988 to provide voters with what they need to make informed decisions. Today, Colorado is one of six states that use the O'Connor Judicial Selection Plan to choose and retain all judges.
Representatives of the Colorado Judicial Institute, the Colorado Bar Association, the League of Women Voters of Colorado, the Colorado Judicial Branch, and IAALS formed a committee early this year to map out a strategy to celebrate this golden anniversary. The committee has sponsored activities around the state to better educate the public about why Colorado's system of selecting, retaining, and evaluating judges is the best way of getting judges who are highly qualified, fair, and impartial, safeguarding equal treatment for all citizens in court, and limiting the influence of politics. On this golden anniversary, IAALS considers this process the gold standard and we are committed to helping more states embrace the O'Connor Judicial Selection Plan.
The committee developed this video to aid in its efforts.
As in every state that uses components of the O'Connor Plan to choose judges, Colorado citizens have an opportunity to be involved, whether by serving on a nominating or performance evaluation commission, evaluating judges before whom they have appeared, or testifying at public hearings about the selection and evaluation of judges.
And at the very least, Coloradans can educate themselves about judges on the ballot and cast informed votes on election day.
Mentioned Content
IAALS and U.S. Supreme Court Justice Sandra Day O'Connor (Ret.) have identified a model for choosing, evaluating, and retaining judges.
Read More