Administrative Law Simulation Brings Jurassic Park to Life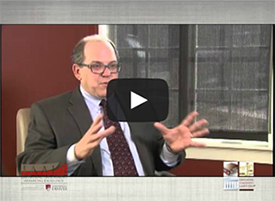 Professor Roberto Corrada of the University of Denver Sturm College of Law, an Educating Tomorrow's Lawyers Consortium school, gives students a comprehensive understanding of administrative law through a unique, simulated experience inspired by the novel Jurassic Park. The course, Administrative Law: Dinosaur Park Simulation, is taught using the paradigm of "what if this actually happened." Administrative law is required at DU, and Corrada's course is an alternative to the area's standard teaching methods.
The complex regulatory framework stemming from the scenario puts students in the position of lawyer and legislator. Corrada puts students into groups, which then draft legislation dealing with the regulation of dinosaur parks. Students then decide how to regulate in the area of dinosaur biogenetics and draft a legislative regulatory scheme that includes: policy and agency design, information collection and release, rulemaking, adjudication, appellate procedure, and agency ethical issues.
Corrada uses this method because it gives students a hands-on review of how administrative law actually works in practice, while also providing substantive knowledge and review of ethical implications—combining all three Carnegie Apprenticeships. The simulation enhances the learning objectives of administrative law and helps students relate better to the content, both immediately and in the long-term. Corrada's goal is to move away from the case study teaching method so that students can appreciate the entire forest of the regulatory field rather than the trees of segregated cases.
The course also provides opportunity for meaningful and regular feedback. Students receive feedback on their class teaching presentations as well as on drafts of their written assignments.
The full Administrative Law: Dinosaur Park Simulation course portfolio is available online and includes teaching objectives, outcomes, application tools, videos, course materials, and student work.