Becoming the Change: The Story of the North Carolina Justice for All Project
April 4, 2023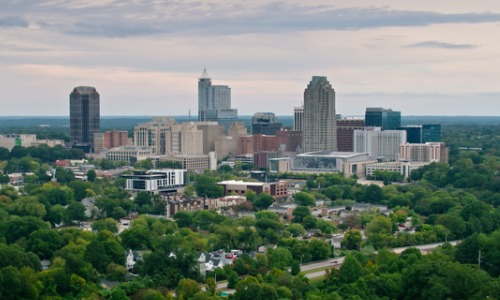 I recall the first message from S.M. Kernodle-Hodges, inviting me to join her in advocating for limited legal licensing in North Carolina. Despite living three hours apart and only encountering each other quarterly at North Carolina Bar Association meetings, we had communicated enough to know we shared a mutual interest in advocacy and access to justice. She ended the email with, "I was told you were the go-to person in this matter." I laughed out loud and thought she has confused me with someone else.
At the time, professional licensing boards nationwide were reeling from North Carolina State Board of Dental Examiners v. Federal Trade Commission, 574 U.S. 494 (2015), which examined whether specific state professional regulatory boards could be sued for antitrust violations. The case involved the North Carolina State Board of Dental Examiners, which issued cease-and-desist letters to non-dentist teeth-whitening service providers, alleging that their services constituted the unlicensed practice of dentistry. The Federal Trade Commission (FTC) contested the board's actions as an antitrust violation.
The Supreme Court ruled on February 25, 2015, that state regulatory boards, composed mainly of active market participants, are not immune from antitrust liability unless actively supervised by the state government. This decision had significant implications for access to justice since it raised concerns about state regulatory entities, such as bar associations and state bars, regulating the unauthorized practice of law. Additionally, it raised concerns about the potential for such entities to impede competition, which could limit access to legal services for individuals who cannot afford conventional legal representation. The decision prompted several states to reevaluate their approach to regulating the practice of law, including investigating alternative models like limited licensing proposals to improve access to legal services for underserved populations.
Soon after, in June 2015, LegalZoom cited the Supreme Court decision on teeth whitening in a $10.5 million antitrust lawsuit against the North Carolina State Bar, alleging the bar unreasonably barred LegalZoom from offering a prepaid legal services plan in the state. Consequently, when Kernodle-Hodges contacted me regarding regulatory reform, I was skeptical it was wise timing.
Later that year, in September 2015, former Chief Justice Mark Martin established the North Carolina Commission on the Administration of Law and Justice (NCCALJ) to provide recommendations for improving the administration of justice in North Carolina. The commission was divided into five committees, one of which was the Legal Professionalism Committee. 
In the 2017 report, the committee recommended that:
. . . the innovation center study (and, if appropriate, propose changes to) the definition of the practice of law in North Carolina and the entities with the authority to adjust that definition. The innovation center's proposals should consider the evolving needs and expectations of the public, as well as the impact of technology on law-related services. The innovation center should also study whether North Carolina should license or certify any additional categories of providers of law-related services. If the center recommends licensing or certifying any additional categories of providers, the recommendations should address how these providers should be regulated.
We were excited about the prospect of change and understood that change takes time, so we waited. However, while we saw some of NCCALJ's recommendations were in progress two years later, including Raise the Age (which involves raising the age of juvenile court jurisdiction to include youthful offenders aged 16 and 17 for all crimes except Class A through E felonies and traffic offenses) and Guide & File (a free, online document preparation tool), there seemed to be no progress concerning civil access to justice and the potential for licensing a new category of legal service providers to meet the needs of those who cannot afford the services of a lawyer.
On January 9, 2019, Kernodle-Hodges contacted me again to pick up limited legal licensing. I asked Kernodle-Hodges why she was focused on civil access to justice, given her background working as a criminal justice official in law enforcement. She expressed that civil access to justice is vital because injustices in the civil legal system can lead to criminal issues when people's civil legal needs are unmet –needs that often impact housing, safety, economic stability, and family structure. This can result in adverse outcomes such as mental health issues and substance abuse, leading to legal conflict. 
During another conversation, I had the opportunity to share my professional experience working at a general practice law firm for many years. Witnessing firsthand how clients struggled to afford legal services was a common occurrence. Seeing clients forced to take out loans or max out credit cards to pay for legal fees was disheartening. Sometimes, mid-case, an attorney would have to withdraw as counsel of record due to the client's inability to afford their fees, leaving them to figure out the rest of their case on their own. As much as many lawyers would like to offer pro bono services, they still need to sustain their business financially. It was clear that more must be done to make legal services accessible.
Additionally, I recounted a profoundly emotional experience I had while attending court with an N.C. Gen. Stat. § 50B domestic violence victim from my church. She had no legal representation because of her inability to afford counsel and legal aid's limited resources. She was forced to face her abuser and his attorney in court alone. It was a harrowing experience to witness her trying to follow the judge's instructions and cross-examine her abuser, sitting only a few feet away. It was heartbreaking to see her fall apart, and it became apparent to me that something needed to change. The incident left a lasting impression on me, emphasizing the urgent need for reform in the civil legal system to ensure that vulnerable individuals, and those who cannot afford traditional legal fees, have access to legal representation and support.
Following our discussion, I contacted my professional network to determine if regulatory reform was on the North Carolina State Bar's radar, and we started to organize. In November 2020, I was informed that the state bar was actively discussing regulatory reform and it was suggested I submit a proposal as soon as possible. It was a pivotal moment that reinforced our determination to advocate for meaningful change in the legal profession.
Over the holiday season of 2020, the North Carolina Justice for All Project (JFAP) was born, and we crafted the 2021 limited licensing proposal. By January 22, 2021, our dynamic duo had grown into a quintet, and we submitted our proposal (which was primarily a framework that blended the best, as we saw it, of Washington and Utah's limited licensing programs) to the North Carolina State Bar and the North Carolina Supreme Court. At that time, we were focused solely on limited legal licensing.
We were ecstatic when the North Carolina Equal Access to Justice Commission (NCEAJC), with Chief Justice Paul M. Newby as Chair, contacted us, requesting that we present our proposal to their members in February 2021. To our surprise, then-Court of Appeals Judge Richard Dietz voiced his support for regulatory reform. Later Justice Dietz became a valuable guide for us, helping us navigate the complex political environment in championing regulatory reform.
On March 23, 2021, JFAP pitched our proposal to the North Carolina State Bar Issues Subcommittee on Regulatory Change. Following our presentation, Kernodle-Hodges and I were appointed to the subcommittee. It was suggested that we table any idea we may have had of approaching the legislature and let the State Bar go through its processes. We were told there was a genuine will to find innovative solutions for the access to justice crisis and that if all went well, we could approach the North Carolina General Assembly together.
During this time, three JFAP members were also invited to a national roundtable where we had the opportunity to collaborate with policy experts and advocates nationwide to discuss challenges related to access to justice. This roundtable, conceived by Steve Crossland, Chair of the Limited License Legal Technician Board, provided a platform to brainstorm and share ideas on advancing our cause in our respective states. It was at this roundtable that I was first introduced to now-former Utah Justice Constandinos "Deno" Himonas, who spoke passionately about the importance of regulatory reform. Attending these meetings provided crucial support and encouragement and helped us stay informed on rapidly changing events in each state.
Through these connections, we gained a greater understanding of the access to justice crisis as well as barriers faced by LSC-funded organizations and other nonprofits. We also learned more about other innovations that could help bridge the access to justice gap, such as regulatory sandboxes, court navigators, and liberalizing UPL.
Then, in January 2022, the North Carolina State Bar Subcommittee published its report, Issues Subcommittee on Regulatory Change: Report and Recommendations. While the subcommittee made several recommendations, the only unanimous vote was to recommend that the state bar council develop and implement a plan for a separate license for qualified nonlawyers to provide legal services. The report cites that JFAP's proposal for a license structure for paralegals and other nonlawyers to provide limited legal services based on rigorous education and examination standards was persuasive. Unfortunately, we became aware that disagreements among state bar leadership had ensued, and suddenly the relationship and ongoing communication we once had with the state bar went cold.
On July 21, 2022, the North Carolina State Bar established a standing Access to Justice Committee. This committee was formed after nearly two years of study by the Issues Subcommittee on Regulatory Change. It has been charged with recommending programs and initiatives that respond to the profession's responsibility, as outlined in the Preamble to the Rules of Professional Conduct, to ensure equal access to justice for all those who face economic or social barriers to adequate legal counsel. 
Following the dissolution of our subcommittee and hearing about the establishment of the Access to Justice Committee, JFAP proactively contacted the North Carolina State Bar in July 2022 to inquire about the new committee's objectives and our potential contribution. Despite our initial attempts at communication, we did not receive a response from the state bar. However, in October 2022, a representative of the State Bar informed us that we would not be involved in the Access to Justice Committee, and it was unclear if the committee would address limited legal licensing. The committee's inaugural meeting was held on October 19, 2022, and it is expected to convene four times a year.
Despite forming the new committee, the North Carolina State Bar has expressed a reluctance to pursue initiatives requiring legislative approval. At an executive committee meeting on October 20, 2022, the State Bar indicated they "don't necessarily want to go to the legislature right now; if anything, it's just what can we do within the confines of these walls or with the help of the Chief Justice." This stance was troubling, as regulatory reform requires action by our state legislature, which drastically limits the scope of potential policy alternatives.
Recognizing that regulatory reform would not be championed by the State Bar, we decided to work on a path to the legislature alone. During this time, I received an invitation from Michael Houlberg, IAALS Director of Special Projects, to a meeting that would pave the way for our next steps. In November 2022, IAALS held a convening in Colorado Springs, Colorado, to discuss allied legal professionals. This meeting provided a platform for experts and national partners to develop recommendations and best practices for states developing allied legal professional programs, with IAALS set to publish a framework for a new national model based on these best practices. There I had the opportunity to meet more access to justice advocates from across the country. The ideas and perspectives shared during this event were inspiring, particularly Stacy Butler's position on forming a legal service ecosystem that comprises a spectrum of legal service providers, including laypeople in the community who can offer limited legal services.
This insight led me to realize that JFAP was missing an essential piece of the puzzle. While focusing on limited licensing—a market-based solution—we also saw an opportunity to help legal aid organizations. Michael Houlberg and Stacy Butler pointed me to programs in Alaska and Delaware, where legal aid organizations are working on training their non-lawyer staff members to provide legal services. Relaxing the unauthorized practice of law statutes allows legal aid to maximize the skills of its nonlawyer staff and serve more clients.
As I continued to work on the legislative proposal, James J. Sandman, distinguished lecturer and director of the Future of the Profession Lab at the University of Pennsylvania Carey Law School and president emeritus of the Legal Services Corporation, contacted us and emphasized the importance of understanding the size of the middle-income population in North Carolina that cannot access legal services. While I could not find a study in North Carolina that addressed this issue, data from IAALS stated that, nationally, 40–60% of middle-income individuals or families could not afford traditional legal services. Applying this statistic to North Carolina's population revealed that the number of individuals in the middle class who cannot afford legal services is even larger than the lower-income population who qualify for legal aid services. In 2019, 1,859,610 people, or 18.2% of North Carolina's lower-income population, were eligible for legal aid services. However, an average of 2,766,438, or 26.5% of the middle-income population, could not afford traditional legal services.
Following the IAALS convening and a slew of conversations with access to justice experts, we completed a final draft of our legislative proposal: Looking Beyond Lawyers to Bridge the Civil Access to Justice Gap: Petition for Redress of Grievances Pursuant to N.C. Const. Art. I, § 12, Policy Analysis & Legislative Proposal. The legislative proposal asks the North Carolina General Assembly to create another tier of legal professionals ("legal practitioners") who can offer more affordable services to the middle class and to relax unauthorized practice of law (UPL) statutes, allowing legal aid and pro bono service providers to train their non-lawyer staff to provide more substantive legal work. These innovations have a minimal fiscal impact but will make a significant difference for those who cannot afford traditional legal services. 
We then contacted policy experts, requesting them to review our legislative proposal and provide feedback. We were immensely grateful to receive support and input from distinguished professionals such as Maggie Goodlander from the United States Department of Justice, Antitrust Division; James J. Sandman, distinguished lecturer and director of the Future of the Profession Lab at the University of Pennsylvania Carey Law School and president emeritus of the Legal Services Corporation; Dr. Rebecca Sandefur at the American Bar Foundation; David Udell of the National Center for Access to Justice; and Michael Houlberg at IAALS, among numerous others. With these invaluable resources and the nationwide coalition we had established, we submitted our proposal to the North Carolina General Assembly on February 16, 2023.
Throughout our journey, we have encountered resistance to our advocacy efforts, with some suggesting that we overstep our bounds by advocating for regulatory reform or are somehow offending lawyers. Others have cautioned us to stay in our lane and maintain a low profile. While our organization has never framed this as a race-related issue, a prominent attorney made a statement that stayed with me. They suggested that we were essentially asking "powerful, old white men to relinquish a two-hundred-year-old monopoly," and as guests in the profession (referring to our non-lawyer status), it was unlikely to happen. This statement underscores the critical importance of access to justice as a fundamental right. Everyone who cares about fairness and equality should have a voice when advocating for change. We are not mere guests in this conversation; this concern affects everyone.
Despite the challenges we face, there are also positive aspects to our efforts. Many of our supporters are lawyers. I have noticed that the lawyers who have been the greatest supporters of access to justice have a personal story to tell, and their support has been invaluable to our efforts. We have also received much support from IAALS and many others. Organizations like IAALS are dedicated to advancing the quality and accessibility of civil justice. They have provided us with resources, guidance, and connections to help us in our advocacy work. They have also introduced us to stakeholders from across the country, which has broadened our perspective on the issue and provided us with new ideas and strategies for creating positive change. This support has motivated and encouraged our team. It has shown us that we are not alone in our efforts, and many organizations and individuals are passionate about improving access to justice. We recognize this is just the beginning of our advocacy, but we are pleased with how far we have come.
It is important to note that each member of the North Carolina Justice for All Project brings a unique and valuable perspective to the organization. While none of our members are lawyers, their diverse backgrounds and experiences have inspired their involvement in our mission. S.M. Kernodle-Hodges' work in law enforcement and public service, Rachel Royal's experience as a paralegal and burgeoning legal project manager, Shawana Almendarez's work in family court administration and private practice, and Morag Polaski's expertise in various areas of "people law'' gained from her work in private firms all contribute to the organization's depth and breadth of knowledge. In addition, three members have volunteered as Guardians ad litem and in victim advocacy. Each member has personal stories of friends, loved ones, and strangers in legal crises.
Following the submission of our legislative proposal, our next steps involve building relationships with legislators and urgently appealing to the North Carolina General Assembly to take swift action. Our upcoming meeting with the North Carolina General Assembly is a significant milestone in our journey. The North Carolina Justice for All Project is a testament to the power of advocacy and the potential for individuals to drive change. To achieve regulatory reform and improve access to justice, we must engage in a collaborative effort that includes a diverse group of stakeholders, including lawyers, judges, paralegals, community leaders and members, social workers, healthcare providers, educators, and policymakers. Although the road ahead may be challenging, it is crucial to continue advocating. Sometimes, even when progress feels slow, we plant seeds that will take root and flourish later. By uniting, sharing our stories, and taking action, we can create a positive change and make justice accessible for everyone. We urge others to join us in this critical effort to combat a broken system that fails to serve the public. Together, we can become the change we wish to see in the world.
Dive Deeper
Up and down the income scale, the legal needs of Americans are going unmet. Allied legal professionals hold a key to bringing more accessible and affordable legal help where it is needed most. Like nurse practitioners, allied legal professionals show great potential, and this project is working to grow these successful programs nationwide.
Read More