Better Access through Unbundling: New Report Gives Recommendations to Increase Access
In the spring of 2017, IAALS and members of the American Bar Association Standing Committee on the Delivery of Legal Services asked ourselves:
"What if we created a forum where an array of stakeholders could share their perspectives, get better insights into collaborative roles, and learn about best practices to advocate for unbundled legal services?"

"What if in two days we could bring together leaders across North America to create paths that help close the justice gap through unbundled legal services?"
These aspirational "what ifs" quickly led to action to achieve just that.
The Fall 2017 Better Access through Unbundling: From Ideation to Implementation conference was intended to get legal system stakeholders closer to the tipping point for widespread implementation of unbundled legal services, or limited scope representation. The unbundled services model gives litigants the opportunity to receive affordable legal help when the alternative is often no legal help. It is well-understood that self-representation is not so much a choice as it is a financial necessity, but we also know that self-represented litigants want legal help.
IAALS and the American Bar Association Standing Committee on the Delivery of Legal Services had partnered together before, in 2015, to co-host Client-Centric Legal Services: Getting from Here to There. This convening called into question the 20th Century legal services business model and challenged practitioners and other service providers to put the client front and center in the provision of legal services. Better Access through Unbundling took this conversation to the next step and challenged practitioners to advocate for and implement into their own practice unbundled legal services, as a means through which to bridge the justice gap.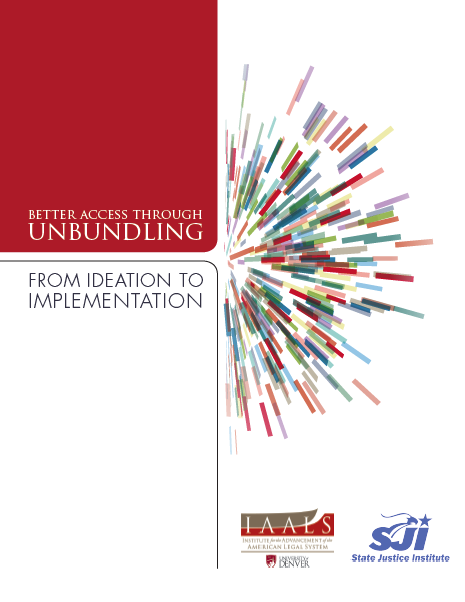 The conference was designed to motivate action and forward momentum. A focus on shared experiences and state strategic planning gave conference participants a place from which to launch local efforts to advance the implementation of unbundled legal services. To carry these messages through to a broader audience of legal practitioners, service providers, and other access to justice advocates, IAALS offers this conference report, detailing the themes, recommendations, and strategic plans that emerged from the conference—with takeaways for every jurisdiction, whether or not they have embraced unbundling to this point.
In this new report, we detail recommendations for advancing unbundling for:
Rulemakers and regulatory bodies
Court systems and court service providers
Attorneys and professional organizations
Law schools and legal educators
We also recognize that there are opportunities for enhanced collaboration among stakeholders in this area, and we outline ways for these groups to connect: legal providers and technology providers; court systems and legal professionals; and attorneys and community organizations.
All justice system stakeholders must be committed to ensuring that everyone who needs access to our legal system has it. And, unbundled practitioners are on the frontlines of fulfilling this commitment. We applaud those who are paving the way, we commend those who are following in their footsteps, and we support those who are just discovering how legal service providers can truly change the lives of court users.
Click here to read and download the report.
Many thanks to the American Bar Association Standing Committee for the Delivery of Legal Services for another successful partnership, and to conference Steering Committee members for providing guidance throughout the planning process and for their contributions to the conference: Forrest S. Mosten, Hon. Daniel M. Taubman, Bill Howe, Janet Drobinske, Dona Playton, Will Hornsby, Sara Smith, and Tori Jo Wible. Additional thanks go to the following panel moderators for their efforts in making the event a success: Jon Asher, Richard Granat, John Greacen, Brittany K.T. Kauffman, Hon. Mark Juhas, Keri Coleman Norris, and Andrew Schepard.
The conference was made possible by the State Justice Institute and the generous contributions of the following organizations:
ARAG Attorney Network
AVVO
Colorado Bar Association
Group Legal Services Association (GLSA)
Above all, we offer our thanks to the conference attendees. Their willingness to participate and to learn more about the unbundled practice of law encourages us that this is a viable route toward closing the access to justice gap. It is our hope that the many practitioners present at the conference will in turn inspire local action and progress.