On Campus, In the Community: IAALS Model Proves There is a Better Way to Divorce
June 30, 2016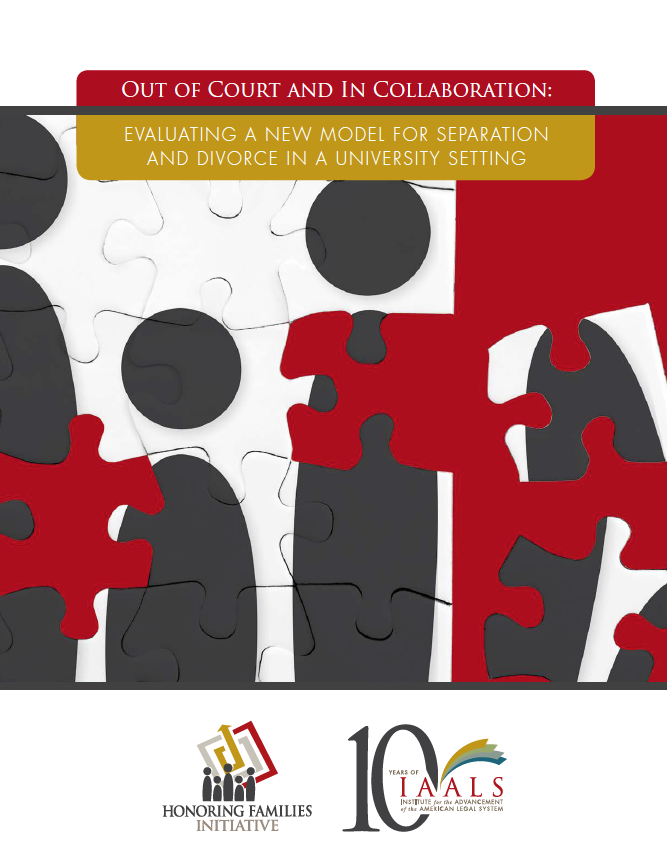 We are pleased to announce the results of our evaluation of the Resource Center for Separating and Divorcing Families (RCSDF)—the first manifestation of the IAALS Honoring Families Initiative's out-of-court model for separation and divorce. 
This non-adversarial model is designed to guide families through the process without ever having to go to court. The program provides holistic, interdisciplinary problem-solving services, mediation, counseling, and financial planning to help set a constructive stage for both parents and children moving forward. RCSDF operated as a two-year demonstration project on campus at the University of Denver, utilizing graduate students as service providers who were supervised and guided by licensed professionals. The model has now moved off campus and into the community, with the Center for Out-of-Court Divorce – Denver (COCD) now operating as an independent nonprofit. From the beginning, evaluation has been an integral part of the plan for both centers.  
The IAALS model has been in the news recently, and for good reason. Wendy Paris, author of Splitopia: Dispatches from Today's Good Divorce and How to Part Well, recently described RCSDF as "the most important innovation in divorce happening today." This is because it is "[n]ot just talk, but also action." Today, we have not only action, but also data to support it.
Our new report, Out of Court and In Collaboration: Evaluating a New Model for Separation and Divorce in a University Setting chronicles and analyzes RCSDF's two-year experience. It includes comprehensive information on: the service process; the families who came into contact with the Center; service utilization and program progression; feedback from parents, supervising staff, and members of the community; and student intern self-assessments.
A critical question for the RCSDF evaluation was whether the model would have positive impacts on the well-being of those who received services. In fact, parents showed statistically significant improvements in the following areas:
Lower levels of stress, anxiety, and depression;
Decreased acrimony between the parents;
Increased shared decision-making skills;
Better communication skills, especially with respect to less violent and more collaborative styles of communication;
Increased confidence in the ability to co-parent;
Decreased levels of parenting stress in terms of parental distress, dysfunction between parents and children, and difficulties with children; and
More appropriate emotional expectations for their children
The improvements are all the more striking when juxtaposed against the long-documented negative impacts of adversarial separation and divorce. The RCSDF data demonstrates how family-centered innovations can positively change the ways separation and divorce impact parents and children. Let's spread the word that the model is a success—and primed for replication nationwide!
Dive Deeper
The current family justice system often works against the capacity of parents to reach fair, amicable, and cooperative solutions. IAALS developed new approaches to better meet the needs of families and children by providing access to comprehensive problem-solving services.
Read More