Choosing Judges: Judicial Nominating Commissions and the Selection of Supreme Court Justices
August 28, 2014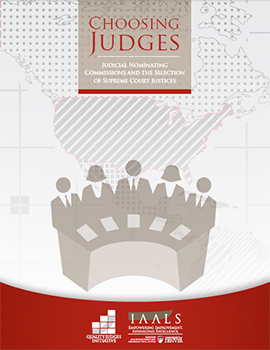 IAALS and its Quality Judges Initiative are pleased to announce the release of a new report on the judicial nominating commissions used to select supreme court justices in 30 states and Washington, D.C. With Choosing Judges: Judicial Nominating Commissions and the Selection of Supreme Court Justices, we examine why judicial nominating commissions are established in the first place, how their structure and operation differ across the nation, and what some of the best practices might be in building public trust in the process.
In these jurisdictions, the nominating commission accepts applications for judicial vacancies, screens the applicants through steps laid out in state law, and recommends a shortlist of the best-qualified candidates to the governor for his or her ultimate appointment. Judicial nominating commissions are also one of the most important components of the O'Connor Judicial Selection Plan, to ensure that quality judges are chosen in a way that merits confidence.
How best to select state judges is a timely topic, with judicial selection methods in some states currently raising concerns. In New Jersey, where the governor appoints judges with senate confirmation, partisan strife has left so many vacancies on the state's trial courts that lengthy civil trials have been suspended in one county, and throughout the state, retired judges have been brought back into service to help manage the backlog of cases. On the state's high court, judges of lower courts have been temporarily assigned to fill vacancies.
In this fall's North Carolina judicial elections, where four supreme court seats are on the ballot and the ideological balance of the court is at stake, commentators anticipate record levels of outside spending. A three-candidate primary election earlier this year saw more than $1.3 million spent on ads alone.
A commission-based gubernatorial appointment process can offer important benefits to the state judiciary that these other methods may not. First and foremost, those who aspire to be judges need not have political connections, a campaign war chest, or the support of special interests to apply. Rather, the process can create an environment in which the selection decision focuses on candidates' experience, character, and qualifications, motivating highly qualified candidates to apply. This, in turn, can inspire trust and confidence in the selection process and in the judiciary as a whole among members of the public and the other two branches of government. But the extent to which commission-based appointment achieves these ideals is dependent wholly upon how the commission is chosen and how it functions. Some points of interest:
Nominating commissions are used to choose supreme court justices in eight states with contested elections—to fill vacancies that occur between elections. Nearly half of all judges in elective states are first appointed to the bench.
In a number of states—including Missouri, Kansas, Oklahoma, Florida, Rhode Island, New Hampshire, and West Virginia—nominating commissions were created in direct response to political corruption involving the judiciary or scandals involving individual judges.
Nine states call for a citizen—i.e., non-lawyer—majority or an equal number of non-lawyers and lawyers on the nominating commission, while a citizen majority is possible in five additional states.
Fifteen states mandate political party balance among commission members.
In nine states and D.C., at least three appointing authorities—e.g., the governor, legislative leaders, state bar members, the chief justice—name members to judicial nominating commission.
Interviews of judicial applicants may be open to the public in 15 states, and nominating commissions conduct at least some deliberations in open session in six states.
Commission-based appointment has been challenged in at least seven states over the last decade, but at least four additional states have undertaken serious efforts to adopt such a process.
Commission-based gubernatorial appointment, with a well-structured and operated nominating commission, is a proven, effective alternative to other selection methods, which often politicize judges and emphasize campaigning over experience. We hope this publication can serve as a guide to help states improve their methods of selecting judges and, ultimately, secure qualified and impartial judges to serve on their courts.