Dispositive Motion Reform Critical and Achievable for Courts and Litigants
January 17, 2019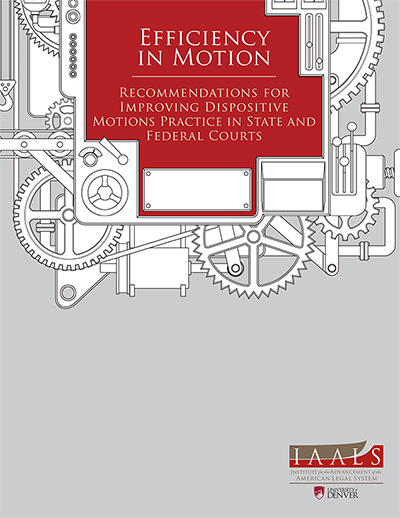 Judges and attorneys from across the country point to dispositive motions as a critical area for reform. When used appropriately, these motions can make civil litigation more efficient, saving the court and the litigants time and money. But when they are filed reflexively, and are not thoughtfully managed or timely ruled upon by the court, they inject additional cost and delay into court systems across the country, ultimately undermining access to justice for all, from individuals to large companies.
Recognizing these challenges and the opportunity for improvement, IAALS, the Institute for the Advancement of the American Legal System, undertook a project starting in 2017, titled Efficiency in Motion, focused on understanding the current motions landscape and issuing recommendations for improvement. As part of that project, today IAALS announces the release of a new report, Efficiency in Motion: Recommendations for Improving Dispositive Motions Practice in State and Federal Courts, calling for a new paradigm for motion practice in the United States. The report is the culmination of nearly three years of research, surveys, and expert input into the opportunities for improvement and innovation.
"I am already implementing many of the reforms outlined in the report in my courtroom, and they are having a definite impact on time and expense for all involved," said Judge Jack Zouhary of the U.S. District Court for the Northern District of Ohio. "These reforms are critical to avoiding months, or even years, of delay and mounting costs. Sometimes it is as simple as encouraging common sense and better communication."
The effort to develop the recommendations began with research by IAALS in 2018 that looked at summary judgment from 10 U.S. District Courts. This research, released as Efficiency in Motion: Summary Judgment in the U.S. District Courts, was paired with a national convening of experts to examine the issues and brainstorm solutions. An IAALS survey of American College of Trial Lawyers Fellows added insights into the on-the-ground experience with proposed reforms.
"As we have crossed the country speaking with judges, attorneys, and litigants, we have heard the concerns with dispositive motions and the impact that these motions can have on meaningful access to justice in cases, large and small," said Brittany Kauffman, the Senior Director at IAALS who is leading the project. "While there is no 'one-size-fits-all' approach to this problem, there are meaningful changes that can be made by attorneys and the courts to address the cost and delay associated with these motions. This report is more than a set of recommendations. It is a call for the bench and bar to get actively engaged in improving current motions practice with the goal of better outcomes for all."
Reforms outlined in the report include principles of effective communication, avoiding one-size-fits-all approaches, prompt rulings, active and engaged case management, and expedited processes, to name just a few.
"In Arizona, we've been working hard to implement reforms across our civil justice system that reduce cost and time. That means that more people and organizations that come to seek justice are able to find it in our courts," said Don Bivens, former Chair of the Supreme Court of Arizona's Civil Justice Reform Committee. "I have seen these recommendations make a difference in practice, and I am excited to see courts implement them across the country."