In the Face of a Justice Crisis, There Is Strength in Numbers
October 14, 2020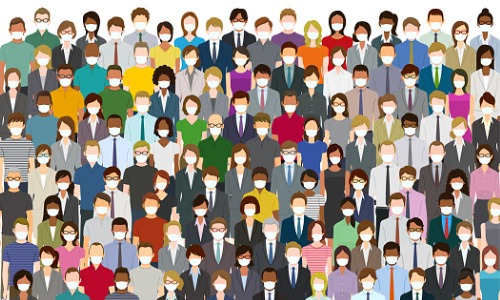 The COVID-19 pandemic has spread across the world and infected millions. In the United States, we are inching toward 7.5 million cases, with over 200,000 lives lost. Alongside the impacts on health and human livelihood, the pandemic has delivered a global economic crisis, with the World Bank predicting "the deepest global recession in eight decades." In the United States, we have seen a health and economic crisis at a scale and speed "unprecedented in the history of the United States." Further still, the pandemic has created a crisis in our justice system.
Unlike a natural disaster, government shutdown, or cuts to federal and state funding, the pandemic has brought far more widespread negative impact across our justice system—felt across state and federal courts, across legal aid funding and large law firm business, across local communities and all 50 states and territories. At its most basic level, the pandemic has resulted in daily challenges to the administration of justice. Courts around the country are focused on staying open to ensure access to justice is available—be it virtually or in-person—with an immediate focus on continuity of services and continued adjudication of disputes.
Justice Is on the Frontline of the Pandemic
Beyond this, though, the pandemic has much deeper implications for our justice system. As poignantly stated in a recent joint article by justice leaders in Peru, the Bahamas, and Kenya: "For better or worse, the justice sector will remain on the frontline of this pandemic. If justice systems fail to deliver, it will be hard or impossible to control the pandemic, while the economic recovery will be stymied. The wave of protest is also likely to grow, as trust between citizen and state is destroyed." Our justice system is needed more than ever to ensure that we manage the institutional, social, and economic impacts of this pandemic. We are a player in the pandemic response just like the other branches of government.
While recognizing COVID-19's far-reaching nature, it is also critical to note its disproportionate impact on people of color, including Black and Indigenous populations. As the Centers for Disease Control has recognized, "Inequities in the social determinants of health—income and wealth, health-care access and utilization, education, occupation, discrimination, and housing—are interrelated and put some racial and ethnic minority groups at increased risk of contracting and dying from COVID-19." This same disproportionate impact will be mirrored in our justice system. Systemic racism in our justice system is finally being recognized in a widespread, mainstream way. Unfortunately, the pandemic and economic effects will likely deepen and widen the many racial inequities and justice gaps that already exists in our system.
Looking beyond the short term, it is clear the impacts will last far beyond the end of this public health crisis. As the World Bank notes, "Deep recessions triggered by the pandemic are likely to leave lasting scars through multiple channels, including lower investment; erosion of the human capital of the unemployed; and a retreat from global trade and supply linkages." Our justice system, too, will continue to reverberate from the effects of the pandemic long after the immediate health crisis. The burden on the system will grow, as business closures, job losses, evictions, debt, loss of healthcare, and an increased divorce rate translate to an increased demand from the public for legal help. The immediate focus on keeping the doors of justice open will, by necessity, shift to growing case backlogs, reduced funding, increased demand for low cost legal assistance, inequities in access, and deepening concerns regarding public trust and confidence. Our justice system must plan accordingly and begin to cushion these consequences and protect vulnerable populations. Thankfully, some of that work is already underway.
Innovation and Leadership Are More Important than Ever . . . 
In the face of this global justice crisis, there are some silver linings. We have seen innovation in our system like never before. As the National Center for State Courts recently recognized, "The COVID-19 pandemic is not the disruption courts wanted, but it is the disruption that courts needed: to reimagine and embrace new ways of operating; and to transform courts into a more accessible, transparent, efficient, and user-friendly branch of government." This innovation has not been limited to reimagining how the court provides its services on a day-to-day basis. In the last few months, two state supreme courts have taken "bold steps to increase access to justice" by voting unanimously to changes how legal services are delivered, with a new regulatory sandbox in Utah and a new category of nonlawyer licensees and ethics rules in Arizona.
Another silver lining is the leadership that we have seen from within our justice system in the face of this crisis. Justice leaders are working hard to confront these challenges and they have not shied away from making big, needed changes. The actions from the Utah and Arizona supreme courts above provide one example, but there are many. The Conference of Chief Justices and Conference of State Court Administrators have jointly formed a Pandemic Rapid Response Team, with working groups that have developed a multitude of guidance and resources. The American Bar Association has created a nationwide task force of lawyers and judges to identify the legal needs arising from the pandemic, making recommendations and mobilizing the legal profession to help people in need. And we have seen this leadership in our trial judges as they rethink how to conduct safe jury trials during the pandemic.
. . . But Innovation and Leadership Can't Happen in Silos
With so many doing so much, we need to ensure cross-pollination of these varied ideas by sharing knowledge and combining our collective intellectual capacity across the various silos within our system. The pandemic is marked by regional differences, and our system is similarly divided into state and federal courts and local legal cultures. The natural result, particularly in times of stress, is to work within our organizations and immediate circles. This is particularly true at a time where the usual opportunities for collaboration—in-person meetings, conferences, and other gatherings—are nonexistent or look very different. Large conferences and webinars are largely one-directional in this moment. We need to purposefully work around these hurdles. It is even more important to slow down, collaborate, learn from others, and build off each other's work.
While always true, the pandemic highlights the need to look for upstream solutions and partner with innovators in our justice system, and outside our justice system. As global justice leaders have recognized:
"By collaborating with justice innovators—with sectors including housing and employment, with trade unions and business associations, and with the multiplicity of community-based, often-informal justice providers—[justice leaders] can find ways to open the sector up to innovation, so that new and more effective solutions can be found that also reduce the burden on the formal system."
And we need to look beyond the American legal system. We are in the midst of a global justice crisis, with justice leaders around the world proposing strategies in response. Never before have justice challenges we face as a world so closely aligned. Recognizing "how difficult and often lonely reform can be," justice leaders must "come together in a global movement to get the job done." This is a global crisis, unique to our justice system that is usually siloed off from others around the world. It represents a unique opportunity to learn from other systems in this crisis.
What does that look like? On a basic level, we need to make the time to pick up the phone and have conversations, across the intersections of our system and across the country. We also need more formal opportunities for interaction and collaboration. At IAALS, our process for developing recommendations depends on the power of convening and collaboration—gathering views from all sides to get us to the best ultimate outcome for our system. Bringing others together to combine best thinking and achieve the greatest impact is what we do, and we are focused on creating these opportunities over the next six months. As we redesign our Justice 2020 Summit, originally planned for November, this is our goal. More to come on this soon.
Given the long-term impacts this pandemic will have on our system—and what is at stake—this approach is more important than ever. Even before the pandemic, 1.5 billion people had justice problems that they could not solve. And as we watch the numbers of people infected and affected by COVID-19 climb at home and abroad, we must also recognize the growing numbers of people with justice problems as a result. As Martin Luther King so eloquently stated, "Injustice anywhere is a threat to justice everywhere." It is within our own strength in numbers, as justice system leaders, that we can help ensure a justice system that assists in the recovery—in the short and long term—rather than contributes to the devastating impacts.