IAALS' New Guide Provides Tools for Federal Judges to Analyze Their Own Docket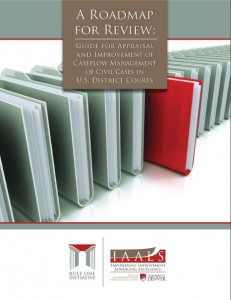 IAALS' new publication, A Roadmap for Review: Guide for Appraisal and Improvement of Caseflow Management in Civil Cases in U.S. District Courts, provides the tools for any interested federal judge to make a quick, initial assessment of the status of his or her civil case docket to measure how it compares to his or her colleagues as well as to courts across the nation. If further analysis and appraisal are deemed appropriate or desirable, this Guide provides the user with the tools to do so and recommendations for better practices. The goal of this self-analysis is the improvement of caseflow management in civil cases in the U.S. District Courts.
We developed the protocols and methodologies in this Guide following an in-depth analysis of a federal judge's civil docket. The judge and the court provided IAALS with complete access to staff and records. The lessons learned from this study are ones we share to encourage others to improve the administration of the civil justice system in the federal courts. It is our hope that chief judges, judges, court administrators, and those interested in improving the delivery of justice in civil cases will find this tool of use in achieving that result.
IAALS produced this Guide as part of our ongoing commitment and efforts to provide research, recommendations, and tools to promote the just, speedy, and inexpensive determination of civil actions—the tenants of Rule One of the Federal Rules of Civil Procedure. The Guide also provides the means for a more in-depth docket analysis and recommendations for improved caseflow management practices based on IAALS' earlier publications: A Roadmap for Reform—Civil Caseflow Management Guidelines and Civil Case Processing in the Federal District Courts—A 21st Century Analysis.
IAALS offers the Guide in hopes that it will assist judges who wish to fulfill the promise of Rule One and learn new approaches to caseflow management excellence.