IAALS Promotes Two to Lead Research as well as Legal Education and Profession Work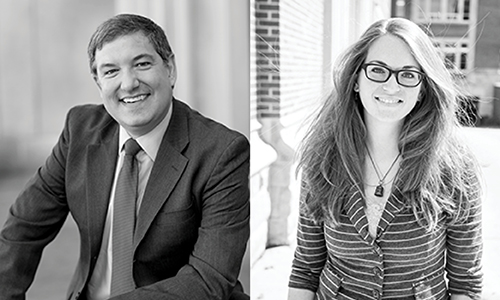 IAALS is pleased to announce that two of our own have been promoted to director positions as of July 1: Logan Cornett has been promoted to Director of Research and Zack DeMeola has been promoted to Director of Legal Education and the Legal Profession.
The promotions are part of a leadership restructuring at IAALS following the passing last year of Alli Gerkman, who served as a senior director for our programmatic work, a position also held by Brittany Kauffman. After nearly a year of reflection and discussion, IAALS has decided not to fill Gerkman's position. Kauffman will continue as the sole senior director for the overall programmatic work, supported now by the leadership of Cornett and DeMeola, along with the rest of their team.
Cornett will oversee all IAALS research and work with our teams in developing questions for investigation, designing and conducting studies to answer them, analyzing the results, and producing formal findings—which in turn inform our recommendations for improving the American legal system. She has published empirical research on a variety of law-related topics, including public trust and confidence, divorce process alternatives, self-representation, legal education, and civil rules reform, among others. She joined IAALS in 2011 and previously served as our senior research analyst.
DeMeola will oversee IAALS' work to improve the delivery of legal services through projects that focus on legal education and the regulation of legal services. He leads our Unlocking Legal Regulation project, which promotes a regulatory system equipped to better meet the needs of everyday people and provide more sustainable practice for lawyers; and will soon launch the next phase of our Foundations for Practice project, which will embed the core foundations lawyers need to succeed in law school learning outcomes and legal employer hiring practices. DeMeola is a frequent speaker on the national stage and serves on the ABA Center for Innovation Governing Council. He joined IAALS in 2017 and previously served as manager in this area of work.
IAALS continues to be buoyed by its passionate and committed staff. The leadership of Cornett and DeMeola will bolster our programmatic team as we work together to build a justice system that is fair, accessible, and efficient for all the people it serves.