Ideas for Impact from IAALS' Fourth Civil Justice Reform Summit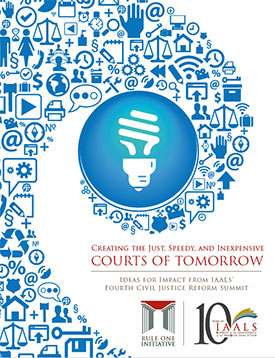 At IAALS' Fourth Civil Justice Reform Summit, we brought together federal and state court judges, court administrators, attorneys on both sides of the "v", academics, and users of the system to brainstorm a vision for the courts of tomorrow, and steps to get there. Today we release the report from that Summit, Creating the Just, Speedy, and Inexpensive Courts of Tomorrow: Ideas for Impact from IAALS' Fourth Civil Justice Reform Summit.
The Summit highlighted the realities of our civil justice system: small cases dominate the state court system, the number of self-represented litigants is growing, and cost and delay in our system is undermining access. The Summit also highlighted efforts underway around the country, including rule changes and pilot projects focused on addressing these realities and improving the system. From there, the dialogue focused on the challenges of implementation and ideas for future impact. Our goal with this report is to spread those ideas beyond the Summit and to help foster positive changes in courts across the country.
Ideas for impact from the Summit include:
We need strong leadership, among the bench and bar, to ensure successful implementation.
Pilot projects provide an important opportunity for innovation and culture change.
Increased dialogue between the parties will go far to focus the issues of the case, address discovery challenges before they become disputes, and build trust between the parties.
Judges play a critical role in achieving change—for the individual cases before them and as leaders in the system more broadly.
In order to modernize our courts, we must develop the court infrastructure, invest in technology, and implement training.
The value of technology is not limited to increased access and information. It can also be harnessed to fully realize the power of case management within our courts.
We need to continue to share innovative work of individual courts so that our system as a whole can improve.
Additional ideas are highlighted in the report. It is our hope that these ideas inspire attorneys, judges, our courts, and other members of the system to embrace their role in creating the just, speedy, and inexpensive courts of tomorrow. It is incumbent on us all to ensure that the promise of our justice system is realized for all who need our courts. As Chief Justice Balmer noted at the Summit:
"One of the takeaways from the Summit is that we know some things that can make a difference, that work . . . . The next phase is how we implement them."