The JPE 2.0 Project: Modernizing Judicial Performance
July 26, 2023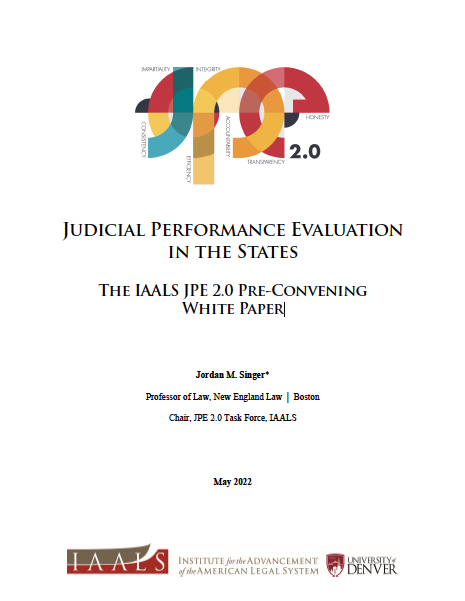 Judicial performance evaluation (JPE) programs provide periodic feedback to state judges about their performance on the bench, promoting the professional development of judges and educating the general public and voters about the work of their community's judges. JPE programs draw from a range of informational sources, including surveys of attorneys and others who interact with the judge professionally, docket data, courtroom observation, written work product, and interviews to create a comprehensive picture of a judge's performance.
In the early 2000s, nearly 20 states plus Puerto Rico and the District of Columbia had formal JPE programs, and many other states had informal programs. In recent years, however, enthusiasm for JPE has waned nationally. Some critics have expressed concern about the accuracy and validity of certain evaluation tools, especially attorney surveys. Others have complained that JPE programs fail to account for factors such as judicial discipline, reversal rates, or recusal. Still others have urged greater transparency regarding evaluation procedures and outcomes. 
IAALS created the JPE 2.0 project to investigate and respond to these concerns—and renew JPE as a valued and trusted process. The project recognizes that JPE has an important historical pedigree, but that it must remain responsive to contemporary needs. JPE 2.0 therefore seeks to identify opportunities for improvement and modernization, and to develop recommendations for JPE programs in the 2020s and beyond.
IAALS works on the JPE 2.0 project in tandem with a task force consisting of five state JPE coordinators. The task force meets regularly to develop and assess research to support this project, and to determine how best to bring varied perspectives on JPE into the discussion.
IAALS kicked off its JPE 2.0 research in late 2021 with a survey to judges in eight states with JPE programs. The survey sought the judges' perspectives on the process, outcomes, and value of JPE in their states. More than 650 judges responded. Most indicated that they were generally satisfied with the JPE process, and that periodic evaluation had helped their professional development. However, only one-fourth of respondents felt that JPE increased their judicial independence, and a large majority felt that JPE did not help the public understand the work that they do.  
Fresh off the completion of the judicial survey, IAALS hosted a national convening of JPE stakeholders in May 2022. The convening brought together judges, JPE coordinators, JPE commissioners, attorneys, legal educators, court users, and other interested stakeholders to discuss the past and future of judicial performance evaluation. A foundational white paper on the history and landscape of JPE nationwide served as a primer for the convening.
During two days of discussion, several broad themes emerged:
JPE needs to better reflect the changing role of judges in society, and changes in society more generally.
The evaluation process should be designed to ask the right questions and minimize errors.
The JPE process needs to be thoroughly trusted—by the judges, the evaluators, and the public.
The national convening led to a new round of research and perspective gathering, with a particular focus on two issues. First, how can we improve trust and confidence in JPE programs for all stakeholders? Second, should we refine the evaluation criteria to better reflect the needs of modern judges, the experience of modern court users, and the expectations of modern voters?
This summer, IAALS will host a series of virtual convenings with specific groups of stakeholders to drill down more deeply on these issues. We are excited to share some of the findings of those convenings in the coming months, leading toward a set of comprehensive recommendations from IAALS to help define a strong future for JPE in the United States.
Dive Deeper
Current judicial performance evaluation (JPE) processes—which are like job evaluations for judges—no longer fully capture the experience of modern court users, the needs of modern judges, or the expectations of modern voters. Our JPE 2.0 project is helping JPE programs update their approaches to reflect modern realities, while remaining accurate, trusted, and relevant.
Read More