Law School Applications Falling While One School Finds Success with Third-Year Program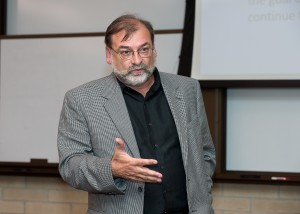 Professor James Moliterno presenting at 2012
Educating Tomorrow's Lawyers
Conference
Once again, law schools have found themselves the subject of a New York Times front-page article that has already topped the paper's "Most Emailed" stories of the day. This time, the story is about the sharp decline in law school applications attributed to "soaring tuition, crushing student debt and diminishing prospects of lucrative employment upon graduation."
The article points to Law School Admission Council data, which mark a 20 percent decline in applicants from 2011 and a 38 percent decline from 2010.
ETL Fellow and law professor William D. Henderson commented, "Thirty years ago if you were looking to get on the escalator to upward mobility, you went to business or law school. Today, the law school escalator is broken."
And law schools are taking notice. According to the article, they are responding by cutting faculty, taking a closer look at affordability, and adding clinics and in-the-field training.
But perhaps more interesting is the story the article doesn't tell—the story of law schools across the country that are already in front of this wave by offering students a better education.
Take, for example, Washington & Lee and its third-year program, which includes two immersion programs (featured in great detail here), practicum-style classes, at least 40 hours of law-related service, and participation in a semester-long professionalism program. Professor James Moliterno, who helped make W&L's third-year program a reality, presented on the program at Educating Tomorrow's Lawyers' fall conference on the Development of Professional Identity in Legal Education.
Inspired by information Moliterno presented in his talk, Henderson dug deeper and took to his blog this week: "Alas, now we know: There is a market for high quality legal education. It consists of college graduates who don't want to cast their lot with law schools who cannot guarantee students entree to meaningful practical training."
As Henderson notes, W&L experienced a dramatic jump in applicants when it launched its third-year program—a jump that protected it against the worst effects of declining applicants. Further, it received more commitments from prospective students. "Indeed, at the ETL conference Jim Moliterno said the school had to offer financially attractive deferments to get the class to approximately 185 incoming students -- a 50 student bulge," Henderson said.
The good news for proponents of programs like this goes beyond law school applications. Using W&L data from the Law School Survey of Student Engagement (LSSSE), Henderson evaluated results from 2008 (before W&L began its third-year program) and 2012. It's worth reading his post in full, but the major takeaway is that W&L saw gains across the board—students reported more writing, more preparation time, more "thinking like a lawyer." Henderson doesn't think W&L's work is done, but its results should be of interest to law schools that are already discussing curricular change (and those that are not).
In the Educating Tomorrow's Lawyers Consortium there are 26 schools, including W&L, that are committed to curricular innovation. They are changing legal education in their classrooms by developing new programs, but by sharing information about their programs—whether on the Educating Tomorrow's Lawyers website or a blog like Henderson's—they are also creating a ripple effect that we hope will inspire schools, inform prospective students, and transform the profession.