Limited Legal License Programs Are Important to Opening Access, But They Need to Be Unencumbered
October 25, 2019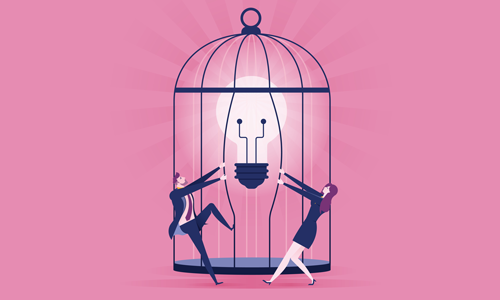 One of the frequently cited issues in any discussion about reforming current regulations governing the delivery of legal services is the topic of limited legal license programs. These programs are rooted in the idea that licensed para-professionals working independently could widen the scope of legal services and potentially offer discrete services at a lower cost, without requiring people to obtain full-service attorneys for every legal issue they have.
Conceptually, this makes good sense, and exists in many other skilled professions; for example, in the medical field, nurse practitioners and physician assistants are independently licensed health care providers. They are not doctors, but they take on some roles traditionally provided by doctors, including making diagnoses and prescribing medication. You wouldn't expect a heart surgeon to be the person taking your blood sample, nor would it be reasonable to pay that person's rate to do so. Why should it be any different with legal services?
The idea is a good one, but many lawyers oppose the idea of anyone other than a lawyer providing legal services. To date, only two states have opened up this path to new delivery of legal services, the pioneer in this area being Washington. The state created its Limited Legal License Technician (LLLT) Program in 2012. The LLLT program allows specially trained paralegals to help self-represented litigants fill out paperwork as well as answer any questions they may have about legal procedures. This is especially important; IAALS' Cases Without Counsel project found that paperwork was one of the chief difficulties experienced by self-represented litigants. "The paperwork can become overwhelming. Forms, while helpful, are not sufficient because many are unclear about the appropriate content to include when completing them. The cycle of litigant mistakes and court rejections is taxing for both." 
Unlike paralegals, LLLTs practice without having to be supervised by a lawyer. Other states, including Utah, Minnesota, New Mexico, Arizona, and New York, are also starting or have begun similar programs, and plenty of other states are looking to see if these programs can help more people access legal services who would otherwise be unable to afford traditional representation by lawyers.
But critics, particularly lawyers, contend that the LLLT program, although good in theory, is ultimately a failure because it hasn't reached the people it was designed to reach. This argument is used to bolster the idea that people in need want lawyers and only lawyers, but this needs to be met with a healthy dose of skepticism. As Responsive Law recently noted in its written comment to the California ATILS Task Force's recommendations, if the reach and impact of Washington's LLLT s is relatively limited, that is due to overly burdensome licensing requirements—three semesters of classes and 3000 hours of apprenticeship under a lawyer's supervision.
That is not to say that that there should not be some minimum training for LLLTs and other similar programs. Yet hefty licensing requirements can work to defeat the purpose of a limited legal licensing program, particularly when the idea is to create a para-professional dedicated to discrete topics rather than full service lawyering. It is disingenuous to create LLLTs and constrain their ability to reach people in need or offer more affordable help by tethering them to the same regulations that are preventing lawyers from doing the same thing, then call the idea a failure. While programs such as Washington's LLLT Program are a fantastic step in the right direction, they cannot be effective if they're weighed down by expensive schooling, limitations on advertising, and other roadblocks to actually delivering legal services.
That is why Responsive Law and others are calling for states to use reasonable standards that will not deter individuals from being able to provide these needed services. But to do so, we must reimagine how legal services are regulated and unlock legal regulation to get there. Western states, and especially Utah, have been trailblazers in the realm of legal regulation. In 2018, Utah approved a new class of legal professionals called licensed paralegal practitioners (LLPs), making it the second state behind Washington to take such action. LLPs are permitted to help litigants in a wide variety of cases, including separation, divorce, name changing, and custody and support.
And just this past August, Utah's Supreme Court unanimously approved a work group report that lays out recommendations for narrowing the gap to accessing affordable legal services by rethinking lawyer regulation. Arizona and California are also weighing bold innovation in these areas. IAALS is actually partnering with Utah for our soon-to-be-launched Unlocking Legal Regulation project in order to open the market for legal services even further, bringing better access for all and more business opportunities for the legal profession and others—while also ensuring protection for consumers and high quality services.
Many organizations are advocating for professionals other than lawyers to play an even bigger role in our legal system. Responsive Law proposed a reform of UPL laws that would allow consumers to get legal help from either online software or professions without law licenses. "Individuals with limited licenses can be helpful, but are not a scalable solution to the large number of replicable problems and solutions." In addition, the National Center of Access to Justice (NCAJ) at Fordham Law School expressed its support for authorizing professionals other than lawyers to provide legal services and gain exemption from UPL laws in its written comment to ATILS. Despite apprehension about discarding UPL and putting the public good at stake, NCAJ believes the size and severity of the access to affordable legal services problem outweighs that apprehension; they also believe that most (if not all) concerns can be properly addressed through comprehensive and proactive oversight. That kind of oversight could, in fact, be provided by the model created by IAALS and being developed in Utah now.
But to make this sort of effort truly effective, the NCAJ lays out six critical principles to keep front and center as California (and other states) move forward with reform, including ensuring everyone both has access to and can afford legal help, ensuring transparency, and ensuring a match between the skill of practitioners and the complexity of tasks. This last principle is where a need for experimentation comes in; only over time will the legal field discover the tasks that can effectively be handled (and are better handled) by professionals other than lawyers with specific training (such as LLLTs). But keeping the current outdated and obstructive UPL restrictions in place is only keeping countless people from getting the legal help they urgently need. And, as Chris Albin-Lackey recently wrote, many of the objections in places like California to opening up pathways to LLLT or LPP programs are simply unfounded.
In the meantime, this month kicks off the beginning of an 18-month study conducted by the National Center for State Courts (NCSC) as they evaluate Washington state's LLLT program. Although the program has been around for five years, it's only been in the last few that NCSC has begun looking at its efficacy—first with a preliminary evaluation in 2016, which found the program to be well-designed and equipped for expanding legal assistance, and now this year's more comprehensive review. The evaluation aims to determine if LLLTs are adequately trained, if they're meeting the needs of their clients, and if they earn enough money to do their jobs full time.
NCSC's evaluation will consist of several parts:
A focus group with some of Washington's 40 or so current LLLTs
A survey of lawyers, judges, LLLTs, and clients
A comparison of the outcome of cases with and without LLLT participation
We look forward to the results of NCSC's analysis. But we must also be mindful of the limitations in place for LLLTs in Washington, and whether they are truly necessary or actually needlessly preventing the program from being more successful. Limited legal licensing programs are not by themselves going to solve the crisis in access to affordable legal services facing Americans today. But they are a critical piece to the puzzle, and, if done right, one of many ways to broaden the delivery of legal services.