Louisiana and Texas Implement Tools to Streamline Litigation and Hasten Recovery from Hurricanes
December 10, 2020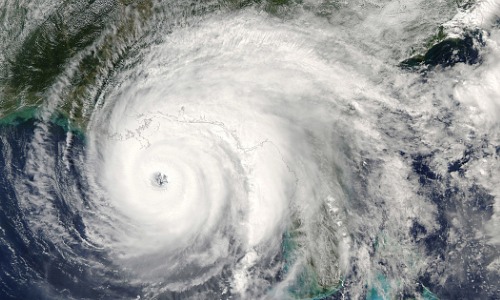 In the past few months, there have been encouraging updates in several states aimed at more effectively addressing the legal needs of disaster survivors. Two states—Louisiana and Texas—implemented various tools to help streamline litigation arising from these disasters.
Hurricanes Laura and Delta
In late August 2020, Hurricane Laura—the fifth strongest storm to ever impact the United States—came ashore in western Louisiana and Texas. Hurricane Laura caused the deaths of at least 42 people, damaged over 400,000 structures, and inflicted over $14 billion in damage in the states. The Edwin F. Hunter, Jr. U.S. Courthouse in Lake Charles, Louisiana, sustained extensive damage, requiring the courthouse to physically close for the foreseeable future and staff to relocate. Then, six weeks later, Hurricane Delta struck the same areas, causing additional damage of at least $4 billion.
IAALS' Disaster Protocols
In 2019, IAALS published Initial Discovery Protocols for First-Party Insurance Property Damage Cases Arising from Disasters (Disaster Protocols), which provide a pretrial procedure for cases involving first-party insurance property damage claims arising from man-made or natural disasters. The Disaster Protocols, IAALS' third set of protocols for specific case types, are designed to be implemented by trial judges, lawyers, and litigants in both state and federal courts in order to "make it easier and faster for the parties and their counsel to: (1) exchange important information and documents early in the case; (2) frame the issues to be resolved; (3) value the claims for possible early resolution; and (4) plan for more efficient and targeted subsequent formal discovery, if needed."
The Discovery Protocols are accompanied by a standing order for implementation by individual courts or judges, as well as an interim protective order that courts and parties can use to help expedite the exchange of information and documents. The protocols supersede the parties' obligations to make initial disclosures under Federal Rules of Civil Procedure Rule 26(a)(1), and replace initial disclosures with initial discovery specific to natural disaster cases. Both sides must automatically provide discovery within 45 days of a defendant's responsive pleading. While formal discovery is still available should the parties need more information, the amount and type of information initially exchanged in the Disaster Protocols are narrowly tailored to frame issues earlier, assess value earlier, and to plan for more efficient and targeted subsequent formal discovery (if needed).
Using the Protocols in Louisiana
After an influx of first-party insurance property damage claims arising from Hurricanes Laura and Delta, the Western District of Louisiana issued administrative orders in its Lake Charles and Lafayette Divisions for all civil matters filed in those divisions with claims and damages arising out of Hurricanes Laura and Delta (referred to as "hurricane cases").
On November 6, 2020, the Western District of Louisiana issued an administrative order that hurricane cases would be assigned to a single judge's docket. Then, on November 12, the Western District of Louisiana approved Case Management Order (CMO) No. 1 "to bring as much of this litigation to resolution as expediently and justly as possible, and to allow Southwest Louisiana to move forward with its recovery." The CMO governs procedures to "expedite discovery" using IAALS' Disaster Protocols (except as modified by the court) and then to "facilitate efficient resolution" through a streamlined conference and mediation protocol, using a streamlined settlement process (SSP).
Discovery in Hurricane Cases
As part of the CMO, the Disaster Protocols require a prompt exchange of information from both insured and insurer, due 45 days from the date that the defendant files a responsive pleading—referred to as the disclosure deadline. The prompt exchange of information promotes uniformity and helps facilitate earlier case evaluation and communications of the issues in litigation.
The Disaster Protocols require that the insured produce information and documents, including:
Loss estimates;
Adjuster's reports, engineering reports, and contractor's reports;
Estimates, bids, plans, or specifications regarding repair work (whether planned, in progress, or completed);
Photographs, videos, or other materials relating to the loss, along with any receipts, invoices, and other records of actual costs to repair or replace the loss, including all reports, analyses, or draft reports prepared on behalf of the insured;
Communications (including electronic) between the insurer and insured; and
Appraisals and other items supporting the loss.
The Disaster Protocols require that the insurer produce information and documents, including:
Coverage disputes and valuation disputes;
Payments made to the insured;
The basis for nonpayment, and the identification of the adjusters, decision-makers, and other claim-process participants;
The entire claim file and policy, and any adjustments;
The underwriting file;
Photographs, claims logs, or journals; and
Proofs of loss and appraisals.
Accompanying the CMO and Disaster Protocols is an interim protective order regarding confidential information.
Opting Out
Either party may petition the district judge to opt out of the streamlined settlement process for good cause. If the district judge allows parties to opt out, then the court schedules a Federal Rule of Civil Procedure 16 conference and issues a specific case management order. If the parties do not seek to opt out, then they elect to participate in this two-staged SSP.
Streamlined Settlement Process (SSP)
The CMO also sets a two-stage settlement process with a named special master and deputy special master ordered to administer, coordinate, and preside over the process. The special master has the authority and power to order parties and/or party representatives—with the full power of settlement—to submit briefing, engage in limited discovery if necessary, and attend settlement conferences and/or meetings. The CMO also lists neutrals pre-approved to conduct mediations.
Cases that do not resolve during the stage one initial settlement conference must move to the second stage—formal mediation. The special master may assign a neutral within 60 days of the disclosure deadline if neither party submits written notice requesting mediation after a completed initial settlement conference. The goal is for parties to set mediation within 90 days of the neutral's appointment to mediate.
During the entirety of the SSP, all pretrial matters, discovery, and related activities are stayed except for Disaster Protocols disclosures. No other formal discovery is allowed pending certification from the special master that the parties have complied with the requirements of the SSP.
Texas' Online Tools
The Disaster Protocols have been used extensively by courts in Texas after Hurricane Harvey. Others have also developed different tools to assist those impacted by hurricanes.
In October, Lone Star Legal Aid (LSLA), Legal Aid of NorthWest Texas (LANWT), and Texas RioGrande Legal Aid (TRLA) launched two online tools through their new Texas Disaster Legal Help portal. These tools are available statewide and, although the portal was created in the wake of Hurricane Harvey, apply to any disaster situation experienced by Texans.
The first tool is intended to improve the mobilization of pro bono attorneys during and in the immediate aftermath of a disaster. The portal will equip volunteers with education and training materials on the different laws impacting citizens of Texas during a disaster, as well as a chat room for volunteers seeking assistance from the three legal aid agencies. 
The second tool is intended to provide help to Texans during and after a disaster. Although the focus is currently on issues relevant to Hurricane Harvey survivors, such as clearing a title to one's home, avoiding foreclosure, and dealing with contractor fraud on liens, the portal will eventually expand to include other issues, including tenants dealing with storm damage as well as family law. Users will soon be able to access the portal via phone call or text message.
Natural disasters continue to increase in both number and severity, and their financial costs are increasing exponentially as well. Everyone involved has the shared goal of an accessible, fair, and efficient process. The Disaster Protocols seek to achieve these goals for all.
Dive Deeper
These Initial Discovery Protocols for First-Party Insurance Property Damage Cases Arising from Disasters provide a new pretrial procedure for cases involving first-party insurance property damage claims arising from man-made or natural disasters. They are designed to be implemented by trial judges, lawyers, and litigants in state and federal courts.
Read More