A Nationwide Look at Short, Summary, and Expedited Trial Programs—And Implementation Strategies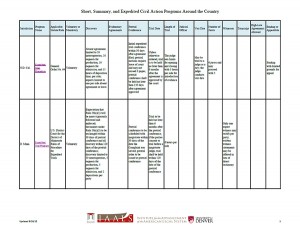 In response to increasing pressures on the civil justice system, both at the state and federal level, many jurisdictions around the country have implemented an alternative process that is designed to provide speedy and less expensive access to civil trials. These programs are known by many different names—"Expedited Trial Program," "Short Trial Program," "Individualized Trial Program"—but regardless of their title, they generally involve a simplified pretrial process and a shortened, expedited trial.
Last year, in collaboration with the American Board of Trial Advocates (ABOTA) and the National Center for State Courts (NCSC), IAALS convened a committee of experts from around the country to brainstorm best practices for designing, implementing, conducting, and measuring effective programs that provide such benefits. From this collaboration came A Return to Trials: Implementing Efficient Short, Summary, and Expedited Civil Action Programs, which collects recommendations for courts that are interested in implementing such programs, as well as those seeking to improve the programs already in place.
And now, given the number of programs that have been implemented nationwide, and their diversity, we offer this additional resource—A Summary of the Short, Summary, and Expedited Civil Action Programs Around the Country. This chart provides a visual breakdown of these various programs, cataloging their unique elements and providing links to more in-depth information.
To hear more about these types of programs, check out this podcast, in which Judge William G. Cobb from the U.S. District Court for the District of Nevada explains their Short Trial Program and its benefits for everyone involved in the trial process.