New ABA Book Spotlights the Benefits of Using Design Thinking to Think Like a Client
March 7, 2023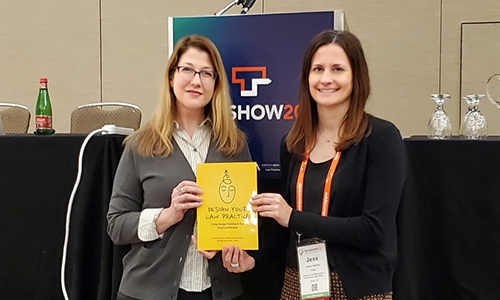 In February, the American Bar Association published Design Your Law Practice: Using Design Thinking to Get Next Level Results. I served as co-editor on this project, which is intended to be a one-stop resource to learn the basics of design thinking, gain insight into how design thinking principles have been successfully applied in the legal services sectors, and prepare practitioners to immediately apply design thinking approaches to their own practices.
Thinking Like a Client
In the past, lawyers could hang their shingles and expect clients to come to them. That's not the case anymore. Today's legal consumer is much more sophisticated and has many options from which to choose. So how does a lawyer stand out in today's crowded legal market? "By starting with the client and working backward," as Jeff Bezos has famously stated. Design thinking is a tool that helps lawyers do just that.
The Five Steps
Design thinking is a five-step, iterative process that helps law firm owners stay laser-focused on their target clients. The five steps are:
Empathize: Research your Client's Needs
Define the Problem: A People-Centered Approach
Ideate: How to Solve the Problem
Prototype: Start to Create Solutions
Test and Refine: Try your Solutions Out and Make Adjustments
If law firm owners use this process every time they evaluate existing and create new legal or client services, they will consistently deliver value to their clients and create superfans of their firms.
Using Design Thinking to Create Systemic Change
Design thinking can also be used in other settings, including when trying to effectuate system change within the profession. In 2016, IAALS launched the Court Compass project to explore user-friendly, streamlined, and accessible solutions that help people through the divorce and separation process—even when they cannot afford to or choose not to hire an attorney. IAALS used a design-thinking approach to design the project and facilitate a series of user-centered design sprints, where self-represented litigants and court stakeholders gathered to map out existing pain points in the process and prototype and test solutions in real time and refine them based on user feedback.
Participants covered everything from help with forms and appearances, to making the court environment less intimidating and more accessible, to improving technology and judicial and staff interactions. "By the end of the design sprint, I felt as though my opinion mattered," one participant related. "We collectively were able to come up with valuable insights on how to improve the divorce process." 
Design thinking places the client at the center. By seeking to deeply understand the people for whom solutions are being developed—and brainstorming myriad ways their needs can be met—law firm owners can create services that are effectual, empathetic, and in high demand.