New Publication Examines Proactive Case Management Processes in Family Law Cases
April 16, 2013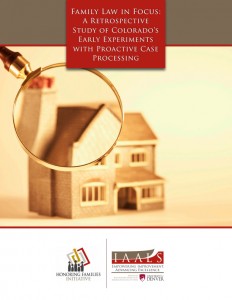 IAALS has just released an Honoring Families Initiative research report entitled Family Law in Focus: A Retrospective Study of Colorado's Early Experiments with Proactive Case Processing. This report presents the results from an analysis of data from five pilot programs instituted from 2000 to 2002 in four different Colorado courts implementing proactive case management in family law cases. The pilot programs were conducted with an experimental design in which control group cases, handled through the traditional family law process, were designated and tracked along with the pilot program cases. Ten years have passed and these cases are now resolved, with a subset of them providing valuable information about the post-decree process. Through this study, IAALS examines what, if any, effect the pilot programs had on these family law cases.
The purpose of this study was not to compare pilot programs' outcomes, but rather to compare proactive case management against a control group that followed the traditional "laissez faire" approach to the handling of family law cases. The data show that proactive case management in family law cases provides substantial benefits for the litigants, including:
Faster resolution of their cases (by an average of more than two months per case);
Court assistance (such as an initial status conference in which the parties had an opportunity to discuss the case with a court officer or a judicial ruling on one or more disputed issues) to more cases reaching an agreement between the parties; and
Reduction in the number of cases dismissed by the court for failure of the filing party to take the steps needed to get the case resolved.
In 2001, Colorado Rule of Civil Procedure 16.2 was modified to incorporate many of the case management techniques that were used in the pilot programs. The revised rule not only provides for uniform process and active judicial case management in domestic relations cases, but it contains specific language about the negative impact of the adversarial process on families. The findings contained in Family Law in Focus bolster the intent of Rule 16.2: by providing active case management, assistance, and education to litigants, the likelihood of speedier case resolution is increased.
If domestic relations cases continue to be handled in the current construct of an adversarial court infrastructure, proactive judicial case management and uniform procedures, as implemented in the pilot programs we reviewed, help to mitigate the negative impact for families. We hope that these findings can serve as a baseline for courts in Colorado and provide information to other states as they strive to improve the experience of families trying to navigate our family court system.
Click here to read the full report.