New Report Highlighting States' Civil Justice Reform Efforts Provides Guidance for Change Management
April 29, 2020
The recommendations can provide critical support to courts facing unprecedented need for change during the COVID-19 pandemic.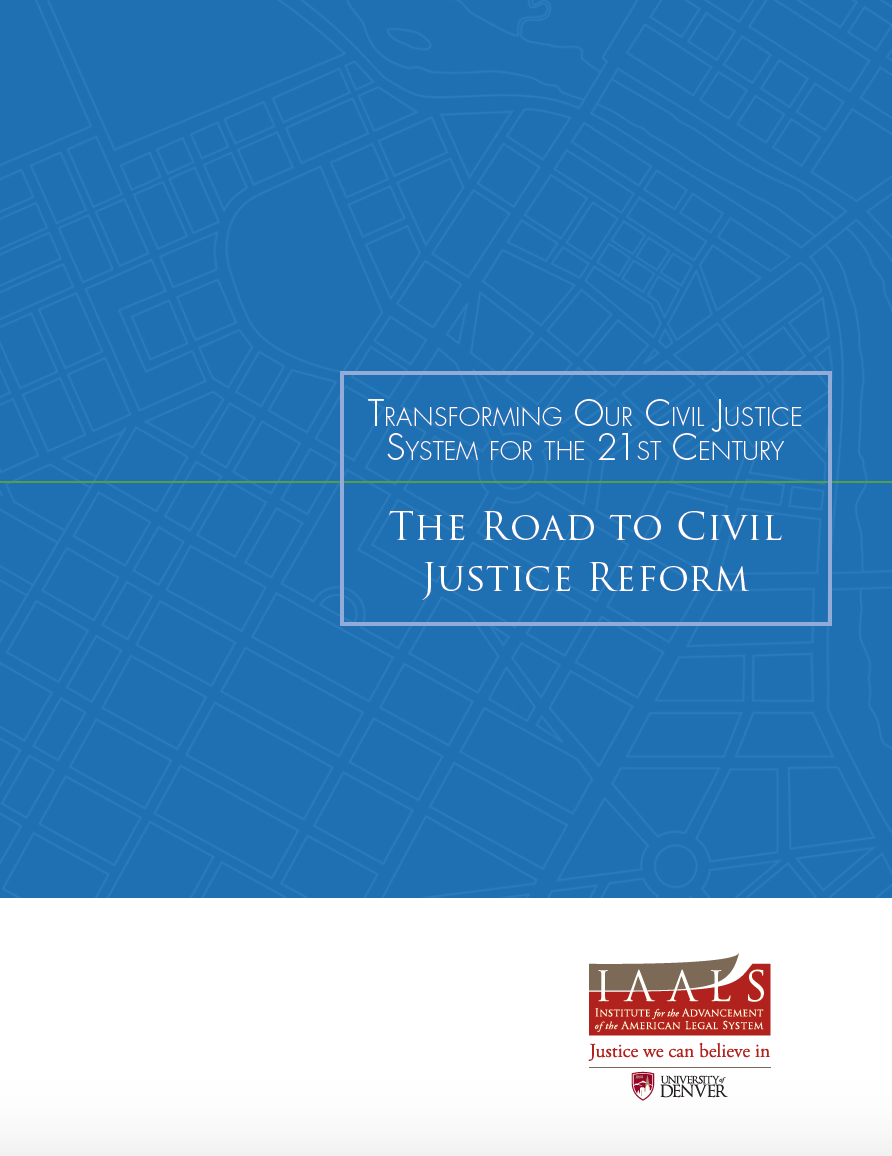 Today, IAALS, the Institute for the Advancement of the American Legal System, and the National Center for State Courts (NCSC) finalized a three-year project with the release of their new report, Transforming Our Civil Justice System for the 21st Century: The Road to Civil Justice Reform.
This report highlights the experiences of four states—Idaho, Maine, Missouri, and Texas—as they worked to implement change in their courts. Their reform efforts were in response to the 2016 Conference of Chief Justices' Civil Justice Improvements Committee guidelines to ensure the just, prompt, and cost-effective resolution of civil cases in state courts. With support from the State Justice Institute, IAALS and the NCSC provided each state with the guidance and tools necessary to support successful implementation, and then circled back to interview those involved.
"These four states have contributed to the momentum for reform that we are now seeing across the country," says Brittany Kauffman, Senior Director at IAALS. "Their efforts, and the lessons learned, can help guide and inspire other courts that are implementing longer term reforms—but they are just as relevant and critical for courts dealing with changes being forced upon them by the pandemic."
Due to COVID-19, courts are currently operating under uniquely challenging circumstances and a tight timeframe—while reform takes time, the need for change has accelerated. The experiences of the states in this report, and their utilization of our roadmap for implementation—a set of seven clear steps for courts to follow when implementing change—can provide invaluable guidance to other courts. The roadmap provides a key framework for reform that states can follow: leadership, assessment and definition of issues, engagement of stakeholders to gain input, development of vision and goals for reform, clear recommendations, and action.
The report also emphasizes several key factors for successful reform that emerged from the pilot states, including:
An evidence-based approach is critical. States must look to the data and other available information to inform decisions, priorities, and timelines.
Engagement with stakeholders is essential. Courts must involve stakeholders from across the spectrum, from judges to lawyers to users. They will have strong opinions about prospective changes and they can help ensure success—or undermine efforts. While time consuming, clear communication from the courts and engagement with different stakeholders will promote success on the ground.
Leadership cannot just be from the top down. "Leadership must be broad and deep. . . . It is the leadership of the full team throughout the effort that leads to success."
"The key now is prioritization and clear timelines for change—some of which must happen immediately and others that can be staged. But, most importantly, states should build off the reforms, research, and experiences of other states," says Kauffman. "It is equally important to build off of what we know about how to manage change, and this report provides guidance based on the experience of four states that have successfully done so."
As many state courts now find themselves navigating the road to reform, Transforming Our Civil Justice System for the 21st Century: The Road to Civil Justice Reform can serve as their map. 
Dive Deeper
This report provides a compilation of case studies from four states—Idaho, Maine, Missouri, and Texas—that used our roadmap to help implement broad civil justice reform recommendations. In it we share lessons learned from each state's experiences, which can provide other states with tangible experiences on which to draw when initiating their own efforts.
Read More