New Study Examines Overlooked Process for Selecting Key Federal Judges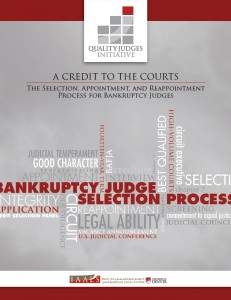 Denver, Colo. – Quality Judges, an initiative of IAALS, the Institute for the Advancement of the American Legal System at the University of Denver, has just released A Credit to the Courts: The Selection, Appointment, and Reappointment Process for Bankruptcy Judges. This study provides the first in-depth examination of the process for selecting U.S. bankruptcy judges, highlighting the similarities and differences among the regional circuits.
Unlike other federal judges, bankruptcy judges are not appointed by the President and confirmed by the Senate. Since 1984, they have been chosen by the judges of the federal circuit in which they will serve. According to U.S. Judicial Conference regulations, the judicial council in each federal circuit may appoint a merit selection panel to review applications for bankruptcy judge vacancies and make recommendations regarding potential nominees to the council. But until now, no empirical study has explored whether the judicial councils use such panels, who serves on these panels, and how the panels' screening processes work.
"Despite the number of cases processed in these high-volume courts, and their significance in the financial lives of individuals and businesses alike, very little was known about how the judges who preside over these courts come to be on the bench," said Malia Reddick, Director of the Quality Judges Initiative at IAALS.
The IAALS study is based on interviews with 25 bankruptcy judges and 11 participants in the selection process—including circuit and district judges, bankruptcy practitioners, and academics, as well as questionnaires completed by the 12 regional circuit executives.
Researchers learned that the judicial council in every circuit uses a merit selection panel in screening applicants for bankruptcy judge vacancies, but these panels vary extensively in composition and operation. For instance, while merit selection panels in some circuits are composed only of judges, other circuits exclude judges from participating on these panels. Panels also range in size from three to nine members. Additional differences, as well as similarities, in bankruptcy judge selection processes across the circuits are highlighted in the report.
Participants were unanimous in praising the products of the selection process. As one now-chief bankruptcy judge who has been on the bench for more than two decades summed it up: "They generally pick the best person, and it truly is merit selection. I'm proud of the way bankruptcy judges are selected. To me it is the best merit selection process we have."
Read what others are saying about the report: