Newly Released Pandemic Protocols for Litigation Will Help Struggling Businesses and Their Insurers
February 9, 2021
National experts create landmark protocols to help courts more quickly resolve the wave of business interruption insurance cases stemming from COVID-19-related closures and losses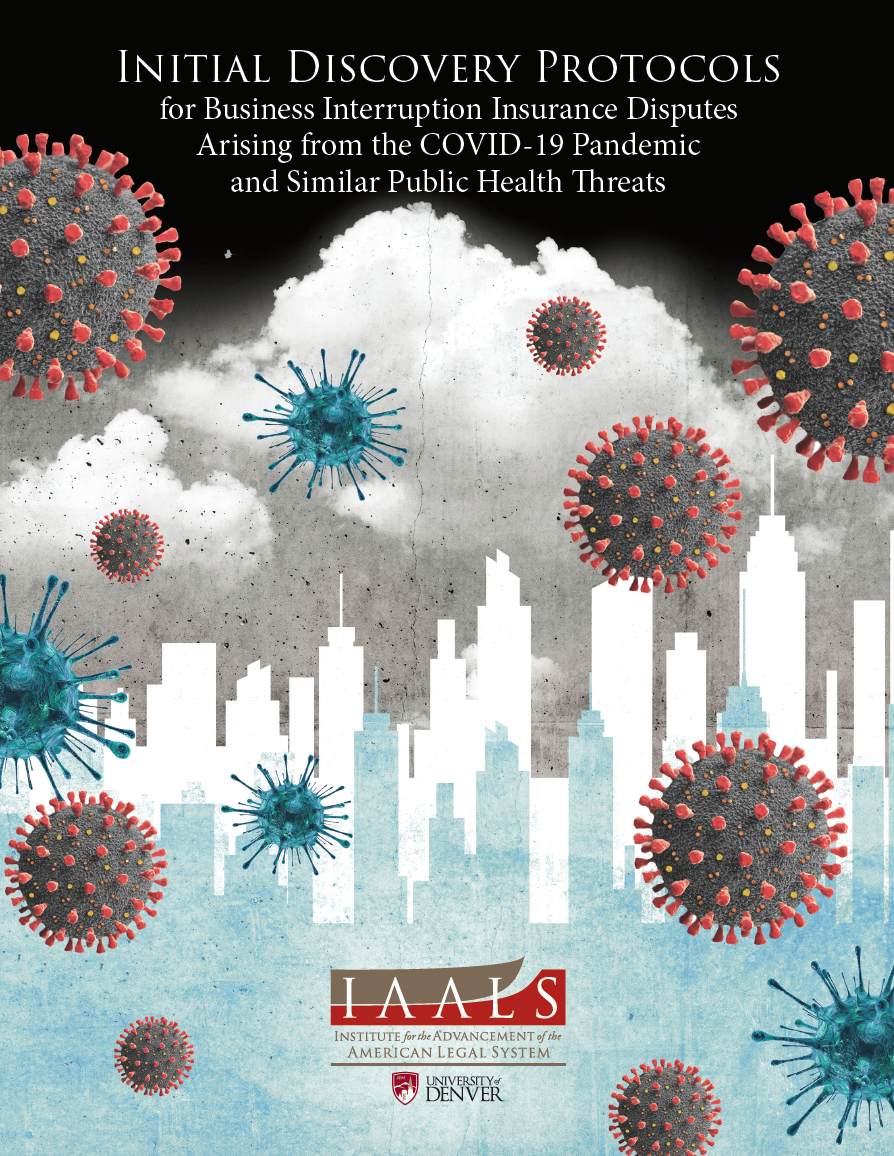 IAALS, the Institute for the Advancement of the American Legal System, released its fourth set of protocols today as part of its Initial Discovery Protocols project. The Initial Discovery Protocols for Business Interruption Insurance Litigation Arising from the COVID-19 Pandemic and Similar Public Health Threats were created to help both businesses and insurers alike reach a quick resolution to the rapid increase in court cases involving business interruption insurance property damage claims due to COVID-19.
Businesses nationwide both large and small are struggling, and they have been looking to their insurance policies to see how their coverage can help them through the pandemic. At the same time, insurers have been inundated with coverage claims despite being adamant that commercial property insurance policies were not intended to cover the COVID-19 pandemic. Because the pandemic has no geographic limitations, claims are being filed in all 50 states in an unprecedented number, and our courts are being flooded with these time-consuming cases with costs on both sides.
This comes at a time when courts are also facing the impacts of the pandemic, at both the state and federal levels. "We are dealing with courthouse closures, postponement of jury trials, and prioritization of criminal matters," said Judge Jennifer Bailey, Administrative Judge of the 11th Judicial Circuit of Florida, Circuit Civil Division. "Even post-pandemic, courts will face backlogs of trials along with an influx of cases due to the economic impacts on both businesses and individuals. Swift resolution of these cases will be important for our country's economic recovery and critical to the many businesses involved. The Pandemic Protocols support efficiency, effectiveness, and fairness. These protocols add to the IAALS judicial toolbox, and will help judges across the nation."
Recognizing this need to efficiently process the increased business interruption cases in both state and federal courts, IAALS brought together a balanced working group comprised of highly experienced attorneys from across the country who regularly represent plaintiffs or defendants in BI insurance and other commercial property damage disputes, as well as judicial leaders who have key experience using IAALS' prior protocols in their courts. Together, they created pattern protocols that require both businesses and their insurance companies to automatically disclose certain information and documents early in the case. This will make the discovery process—normally one of the most expensive, contentious, and lengthy parts of litigation—far more efficient and targeted.
These Pandemic Protocols will make it easier and faster for the parties and their counsel to:
Exchange important information and documents early in the case;
Frame the issues to be resolved;
Value the claims for possible early resolution; and
Plan for more efficient and targeted subsequent formal discovery, if needed.
"These protocols are the latest in a set of discovery tools to help judges and lawyers resolve a high number of certain categories or types of cases in state and federal courts. Because lawyers on both sides of the 'v.' were involved in developing the protocols, the obligations are balanced and fair. The lawyers and parties can get critical information they need earlier and faster," said Judge Lee H. Rosenthal, Chief Judge of the United States District Court for the Southern District of Texas, Houston Division. "As we look at the backlogs COVID has created in our case loads, a set of protocols that work to improve the process for the parties, the attorneys, and the courts is much needed."
"Courts and litigants around the country will be dealing with litigation resulting from this pandemic, including COVID-19 insurance cases, long after the pandemic itself has ended," said Brittany Kauffman, IAALS Senior Director. "IAALS is pleased to lead the way in creating a framework for streamlining the critical early stage of litigation in order to reduce conflict and cost for both businesses and insurers alike. We saw the opportunity to improve the process, and worked quickly to bring together expert partners from around the country to develop these protocols. We look forward to sharing them widely and supporting their use on the ground. It is through their use that they have impact, and we encourage state and federal judges around the country to pick up these protocols and put them in place in these cases."
Dive Deeper
These Initial Discovery Protocols provide a new pretrial procedure that aims to reduce conflict and cost and to help businesses and insurers reach quick resolution during the COVID-19 pandemic, whether it be in settlement, motions practice, or trial. They are designed to be implemented by trial judges, lawyers, and litigants in state and federal courts.
Read More