Ten Years of IAALS: Why America Needs the O'Connor Judicial Selection Plan
May 4, 2016
IAALS is celebrating its 10th Anniversary in 2016. Throughout the year, we will be featuring guest posts from our colleagues and partners to recap our accomplishments and national impact—and look to the future ahead. The full series of posts will be collected here.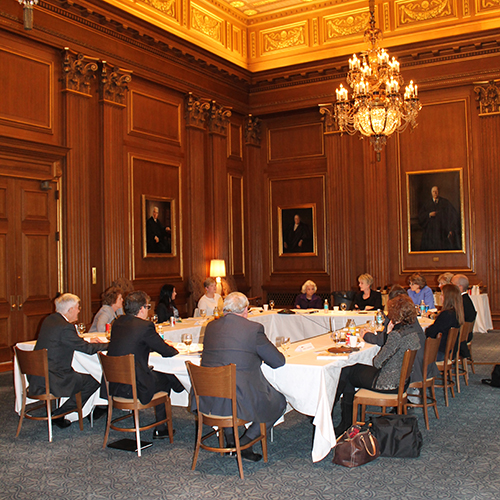 It has been my honor to participate in IAALS' Quality Judges Initiative as a member of the O'Connor Advisory Committee. Much of my time serving as President of the American Bar Association in 2008-2009 was devoted to efforts to assure adequate funding for the judicial branch of government and to improve judicial selection in order to assure fair and impartial courts; service on Justice Sandra Day O'Connor's committee was a logical following step after my term as ABA President ended. As a member of the O'Connor Advisory Committee, I have seen firsthand how QJI brings focus to the national debate on judicial selection issues and challenges. We have members who give perspective to the issues from various diverse backgrounds in order to come up with workable recommendations on judicial selection and judicial performance evaluation.
Too often we hear of elected judges, particularly those in partisan races, who are forced to raise obscene amounts of money, sometimes from the very people who may later appear before them in their courts. This situation can lead to lessened public confidence that the courts are fair and impartial, even giving the impression that justice is for sale. Moreover, elimination of many campaign finance restrictions has resulted in a veritable flood of money into judicial races from all sides of the political spectrum. This is not a conservative issue or a liberal issue; rather, it is an issue that undermines confidence in our courts.
IAALS' Quality Judges Initiative researched the various methods of selection and retention of state court judges across the United States, and assessed the methods that are the most effective in assuring public confidence in the courts. QJI, with the input of the members of the O'Connor Advisory Committee and Justice O'Connor herself, created the O'Connor Judicial Selection Plan, which stands as the best and most comprehensive merit selection plan to date. It stands on four pillars:
Use of judicial nominating commissions to vet and screen candidates for judicial positions;
Appointment by the Governor from nominees provided by the nominating commission;
Judicial performance evaluations, to see how the judges are actually performing on the bench; and
Retention elections.
Importantly, the Plan was developed to encourage highly qualified persons to seek judgeships, to appoint the best available people to judgeships, and most importantly, to develop public trust and respect for the judiciary.
QJI has not limited itself to selection of state court judges. QJI has researched federal judicial screening committees used by some U.S. Senators to vet potential judicial nominees and to recommend candidates for the Senator's consideration to submit to the White House. In the last year, I had the privilege to Chair the ABA Standing Committee on the Federal Judiciary, the committee that rates prospective federal judicial nominees for the White House. I could see firsthand how valuable these screening committees can be and how well they can work when used by members of both parties in a particular state.
The challenges to a respected, fair, and impartial judiciary are many, but with IAALS and its Quality Judges Initiative, the challenges will be met, enhancing justice for all.
Dive Deeper
IAALS and U.S. Supreme Court Justice Sandra Day O'Connor (Ret.) have identified a model for choosing, evaluating, and retaining judges that balances the need for fair and impartial courts with the need for public accountability and transparency.
Read More