< Back to Civil Justice Initiative
To ensure that the 13 Civil Justice Initiative recommendations achieve this important goal, IAALS and the NCSC—with support from the State Justice Institute—have focused on implementation of the recommendations around the country. Through the Civil Justice Initiative (CJI) Implementation Plan, under the direction of the CJI Steering Committee, IAALS and the NCSC provided education, technical assistance, and practical tools to help state courts implement the Recommendations nationwide.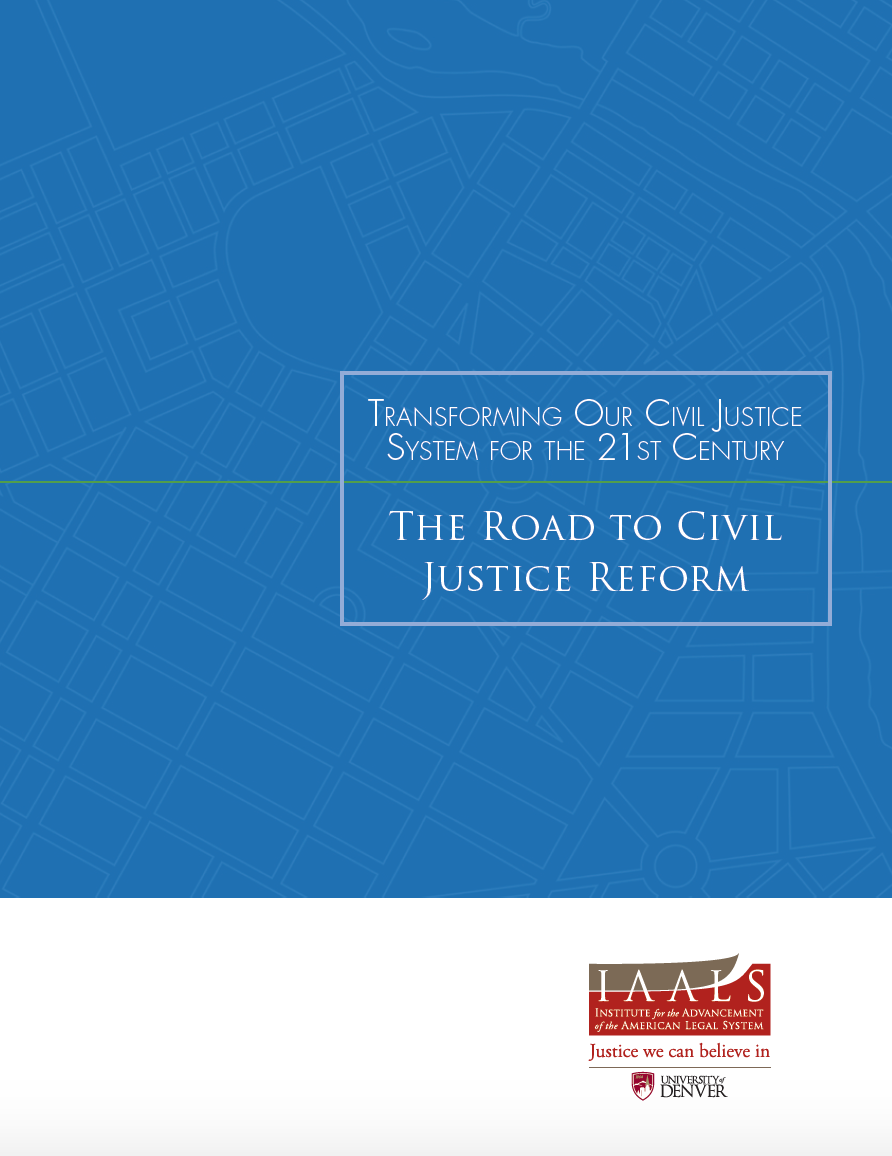 Our Roadmap for Implementation provides a clear step-by-step process for moving from initial assessment and definition of issues to working with stakeholders and implementing reform.
State courts can learn from their fellow states' experiences, which is why we worked directly with four jurisdictions—Idaho, Maine, Missouri, and Texas—as they followed the roadmap.
The Road to Civil Justice Reform provides a compilation of case studies from those states that used the roadmap to help implement the CCJ recommendations, with the assistance of IAALS and the NCSC. In the report we share lessons learned from each state's experience implementing reform on the ground.
The four roadmap states illustrate that different courts with different paths can be very successful, providing other states with tangible experiences on which to draw when initiating their own reform efforts.
Additional Resources:
A key aspect of the project included a series of state court regional planning meetings—regional Summits—where states learned about the impact of civil justice reforms and effective implementation strategies. We encouraged every state at the regional Summits to learn about civil justice reform efforts nationwide and provided each state with an opportunity to develop an action plan for reform or other activities in their respective jurisdictions. Finally, this implementation effort also included demonstration projects, education, and technical assistance.
IAALS continues to work with state courts around the country to provide expert assistance and support as they implement these Recommendations. With the NCSC and support from the State Justice Institute, IAALS continues to work with Texas to implement the reform recommendations developed by the Texas Civil Justice Committee. As part of this effort, we conduct virtual judicial training on the revisions to the Expedited Actions Rules and roles and best practices for civil case management teams (CCMTs).
Other Implementation Materials:
IAALS has developed additional tools to support states' implementation efforts:
NCSC has developed additional tools to support states' implementation efforts: