Much has been done to address the cost and delay in the civil justice process, and much of that work has focused on discovery. Recognizing that there are equal challenges and opportunities for improvement in the area of motions practice, IAALS has also focused on understanding the current motions landscape and has issued recommendations for a process that is more efficient, more targeted, and less costly for all.
Objectives:
To address the cost and delay in our system related to motions practice.
To recommend improved processes for dispositive motions and support their implementation, thereby improving the process for all in the system, from courts to users alike.   
Significant work has centered on civil justice reform in the area of discovery, which, apart from trials (in the rare instances in which they occur), is the most costly aspect of litigation. At the same time, we have heard the call for reform in the area of motions practice, which can similarly result in great cost and delay to the parties. These challenges exist at the state and federal levels, although both the challenges and the solutions are unique.
Starting in 2017, IAALS undertook an in-depth evidence-based analysis to determine challenges in motions practice and to figure out how to make civil motions practice more efficient. IAALS hosted a convening at the Penrose House in Colorado Springs, Colorado, in November 2017 for a small group of judges, attorneys, and scholars from around the country to identify the challenges related to summary judgment and dispositive motions, as well as brainstorm practical solutions that could be employed by the parties and the courts. The discussion was informed by a summary judgment docket study preview that was prepared in advance of the convening, which provided background on current summary judgment processes as well as insights regarding innovations already in place around the country.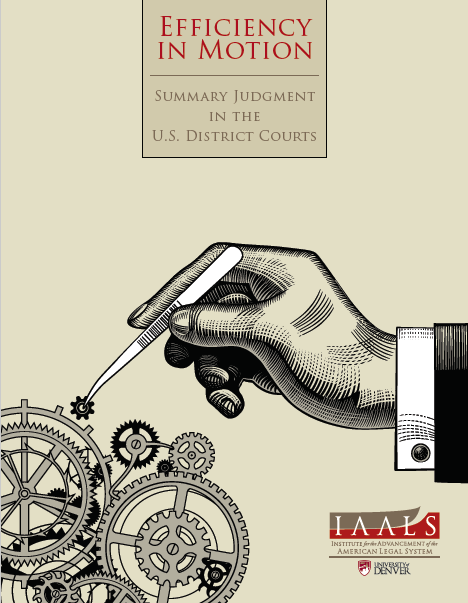 In May 2018, IAALS published an empirical docket study of summary judgment in 10 U.S. District Courts, Efficiency in Motion: Summary Judgment in the U.S. District Courts, which found that across the diverse sample of federal district courts, there is a statistically significant difference in terms of filing rate, length of motions and opinions, time to disposition, and time to ruling. The report provides an important window into motions practice in our legal system.
IAALS' research and resulting report served as a foundation for additional study into areas for reform identified by national experts and a broad base of stakeholders with different perspectives and experiences. In tandem with the empirical docket study, IAALS hosted a convening of judges, attorneys, and scholars from around the country, focused on the challenges of dispositive motions practice and identifying best practices. IAALS then created a smaller Working Group to dive deeper and to create recommendations for improving motions practice, informed further by a survey we conducted of the American College of Trial Lawyers (ACTL) state committees.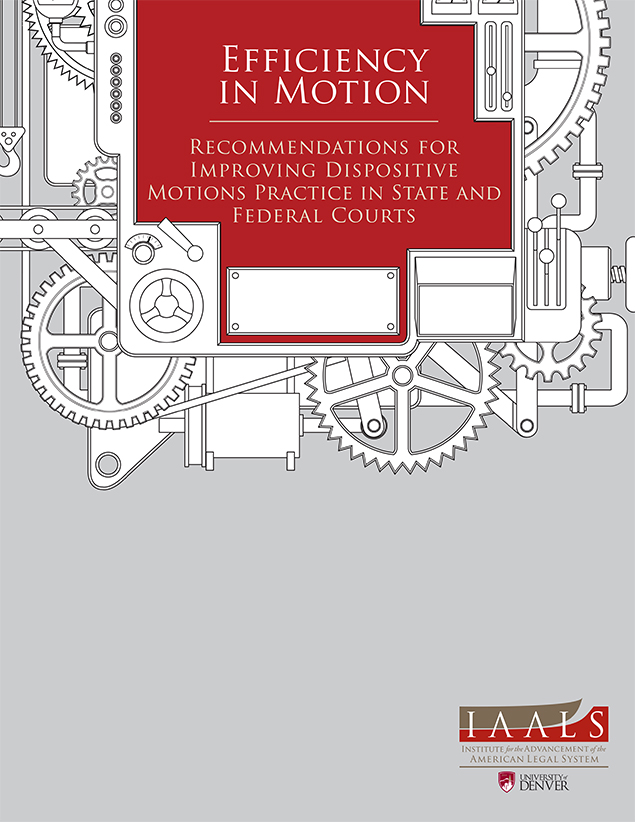 In January 2019, IAALS published Efficiency in Motion: Recommendations for Improving Dispositive Motions Practice in State and Federal Courts, containing a set of eight recommendations and five animating principles intended to guide reform by the bench and bar:
Principle 1: "One size does not fit all." The dispositive motions process must be right-sized and tailored to the needs of the case.
Principle 2: Motions are part of the whole case and should not be addressed in a vacuum.
Principle 3: Courts should rule promptly on dispositive motions.
Principle 4: Summary judgment motions are not appropriate for all cases.
Principle 5: Cooperation and communication between counsel is critical to the speedy, effective, and inexpensive resolution of dispositive motions.
The recommendations are more than just a collection of best practices. They are truly a call for action for judges, courts, and lawyers to actively engage in improving current motions practice with the goal of better outcomes for all involved.
Ultimately, our goal is to support implementation and real impact on the ground designed to save litigants time and money in the process. This goal is all the more important following the pandemic, as courts face a backlog of cases and anticipate a surge in certain case types. Now, more than ever, courts need to implement case management approaches to increase efficiency while also ensuring a fair and just process for all. IAALS' recommendations on dispositive motion reform can help them do just that.
This project is supported by the generosity of the Sturm Family Foundation.