Recommendations for Judicial Discipline Systems
The public must have confidence that judges who abuse their power or undermine the justice system by engaging in misconduct are not above the law and will be disciplined. So, IAALS determined that we needed to better understand how judicial discipline systems work and provide suggestions for improving them.
In enforcing ethical rules for judges' behavior—both on and off the bench—judicial discipline systems (e.g., commissions, boards, councils, committees) play a vital role in ensuring that judges who serve on state courts inspire public trust in the integrity, impartiality, and accountability of the judiciary. At the same time, no two states structure and operate their processes for disciplining judges in the same way. Variation exists, for example, in the selection and composition of the commissions that oversee the discipline system, the way in which complaints are investigated and adjudicated, and the sanctions that may be imposed for misconduct. Perhaps the most controversial difference across state judicial discipline systems is the circumstances under which complaints against judges are made public.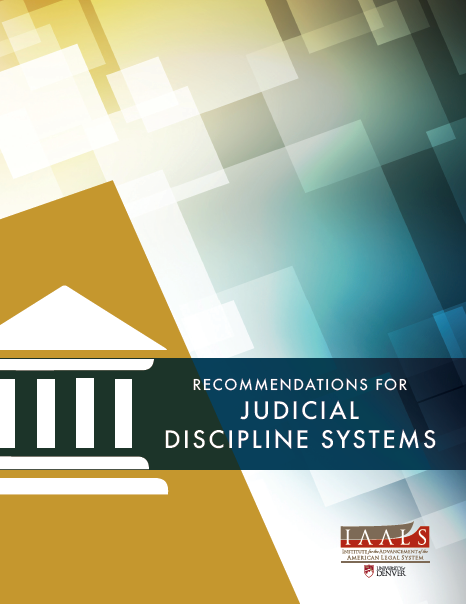 After compiling information and analyses about discipline systems across the country, we convened a diverse group of stakeholders to discuss them. Our report, Recommendations for Judicial Discipline Systems, is the result of that research and collaboration. In it, we make recommendations for judicial discipline systems that are designed to achieve a balance between transparency and accountability, confidentiality and trustworthiness—all with the goal of enhancing public trust and confidence in the judges of this nation.
This report offers basic recommendations for state discipline systems and a range of options in six areas:
Promoting impartial judicial decision-making
Promoting commission impartiality
Sanctions
Fairness and efficiency in commission operations
Advisory opinions
Education and dissemination
Click here to read and download the recommendations.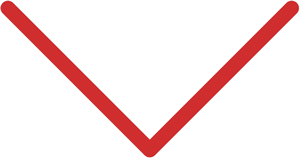 Recommendations for Judicial Recusal Procedures
Judicial recusal in appropriate circumstances is essential to ensuring a judiciary that is qualified and impartial and that inspires public trust. But states vary substantially in the key features of their judicial recusal procedures, and as a result, some procedures are more likely to inspire public trust in the integrity and impartiality of the judiciary than others.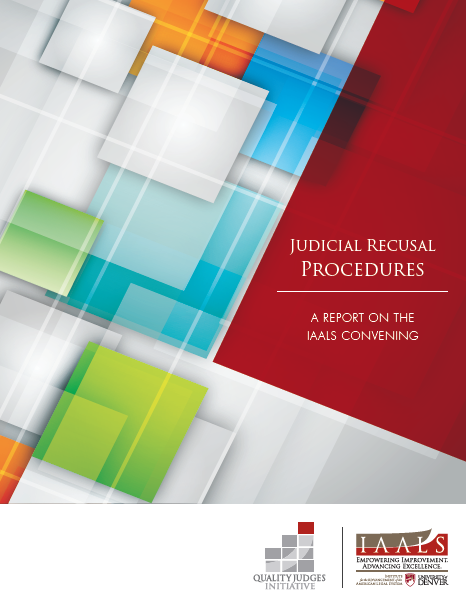 To establish a set of best practices for judicial recusal procedures, IAALS brought together judges, lawyers, court administrators, and scholars from around the country to review the landscape of recusal and find consensus. Our report, Judicial Recusal Procedures, is the result of that collaboration and makes recommendations in eight areas for crafting recusal procedures that are efficient, transparent, and fair to both judge and litigant:
Written, clearly articulated, and accessible recusal procedures
Who decides recusal motions, and with what opportunities for review
Time limits for deciding recusal motions and freezing the litigation
Recusal motion denials in writing or orally on the record
Effective appellate review of recusal decisions and standards of review
Replacing recused judges
Making advice about recusal available to judges
Collecting aggregate data on recusal activity
Click here to read and download the recommendations.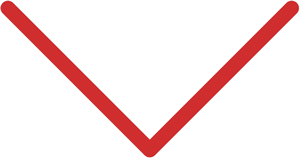 Project Staff: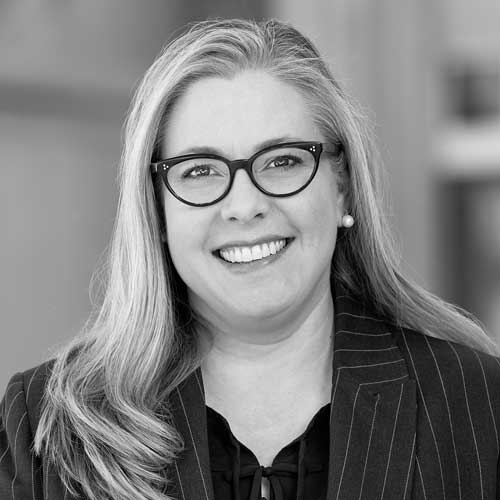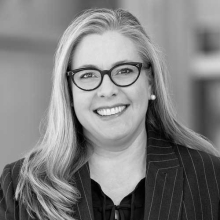 Brittany Kauffman
Brittany Kauffman
CEO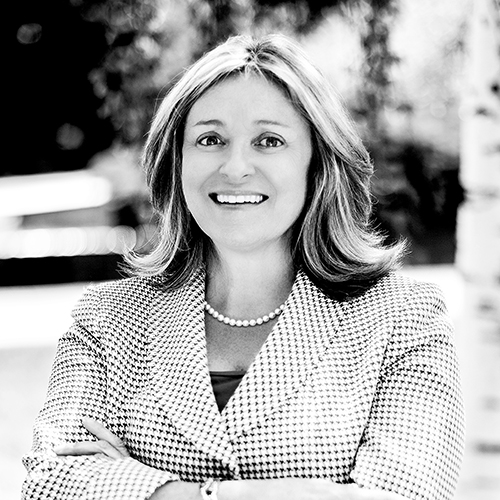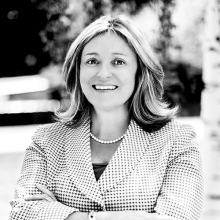 Janet Drobinske
Janet Drobinske
Senior Legal Assistant