ABA President-Elect Patricia Refo Outlines Questions Surrounding Re-Regulation
February 28, 2020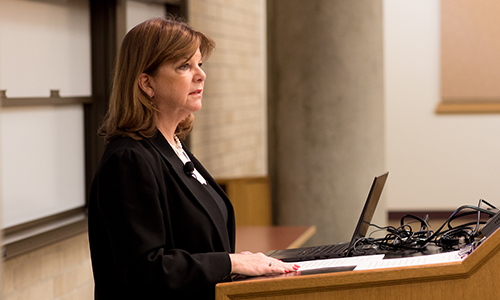 On Wednesday, February 26, IAALS and the University of Denver Sturm College of Law had the privilege of hosting Patricia Refo, President-elect of the American Bar Association, for a talk and Q&A regarding the re-regulation of legal services. The first of our three-part speaker series taking place this spring came just weeks after the ABA House of Delegates passed Resolution 115 at their Midyear Meeting, encouraging states to consider regulatory innovations to expand access to justice.
"Access to justice remains out of reach for many Americans," Refo began, calling the statistics "disheartening" and "shameful." With 85 percent of the legal needs of low-income Americans going unmet, and the numbers not much better for middle-income Americans, Refo laid the groundwork for an engaging talk that would explore what can (and arguably must) be done to address the lack of access to justice in this country.
"As lawyers, we enjoy the privilege of self-regulation, and with that privilege comes a responsibility—and that is to ensure that the rules and regulations of the legal profession do one thing, and that's protect the public."
Refo pointed out that, while the goal of regulation is ultimately to enhance the administration of justice (and not to protect lawyers' livelihoods), the aim of current discussions around re-regulation is not to eliminate lawyers. "Our aim is to help lawyers lead the changes that the justice system needs in the twenty-first century."
So, as the president-elect asked, "How can we make the promise of 'justice for all' real for all Americans?" This question, she alleged, has led to the current discussion on whether or not—and if so, how—the legal profession should be innovated and unlocked, with two recent developments indicating in which direction things are headed: the Conference of Chief Justices' passage of Resolution 2, as well as the aforementioned ABA House of Delegates' passage of Resolution 115. As to the latter, Refo said she believes that the passage of such a resolution signifies that "we are no longer afraid of innovation."
Refo made the distinction between two possible routes of opening up the legal profession: nonlawyer legal service providers and alternative business structures. The rest of her talk comprised a series of thought-provoking questions that the legal profession must take into account when considering implementing either of the above systems.
As far as nonlawyer legal service providers, how would they be limited—by subject matter, by the nature of the specific issue, by the dollar amount involved? "If the parties can't afford to hire a lawyer, are they better off with no lawyer at all? Or with the assistance of a nonlawyer?" She posed questions about the amount of training that would be involved, as well as how they would be licensed and potentially disciplined.
She then moved on to the questions posed by alternative business structures, and the concerns that have been raised regarding lawyers' independence should fee-sharing become legal. Many are unsure what it would look like should, for example, the Big Four accounting firms be able to move into the legal sphere, and whether or not that would be good or bad for the public. Yet Refo asked the audience to ponder: "is it possible that an equity investment by a nonlawyer in a business that provides a legal service can assist in addressing the access to justice gap?"
Refo pointed out that some states are already moving forward with a "variety of experiments," such as regulatory sandboxes (like the one IAALS is helping to implement in Utah) and, in Refo's home state of Arizona, the pending proposal to eliminate Model Rule 5.4. And as far as the ABA, while the model rules have not changed, "we recognize that experimentation is going forward and we encourage that." Before concluding her thought-provoking talk, she stressed that it is absolutely essential to measure the results coming out of these innovative approaches. "Which of these innovations actually moved the needle on access to justice, and how can we really make change that will affect the middle- and lower-income Americans who so desperately need access to lawyers and legal services?" IAALS agrees, which is why robust evaluation is a part of our plans in Utah.
We are incredibly grateful to President-elect Refo for her time and insight, as well as to everyone who attended. Please consider joining us for the next two sessions of our speaker series on The Future of Legal Services, with Law Professor and ABA Journal Legal Rebel William Henderson on March 19 and Justices Melissa Hart (Colorado), Deno Himonas (Utah), and Ann A. Scott Timmer (Arizona) on April 29.
Dive Deeper
IAALS and the University of Denver Sturm College of Law co-hosted a speaker series—The Future of Legal Services—bringing together perspectives from the legal profession, academia, and state supreme courts—the regulators of legal services.
Read More