Conference of Chief Justices Issues Resolution Urging Regulatory Innovation
February 13, 2020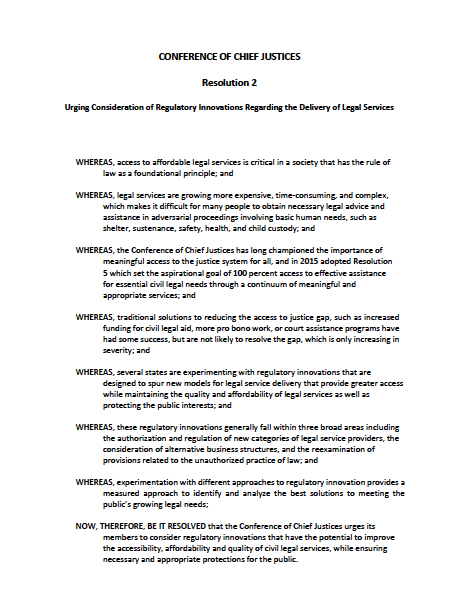 Efforts to re-regulate and innovate legal services took a major step forward last week at the Conference of Chief Justices' (CCJ) midyear meeting, where members adopted Resolution 2 - Urging Consideration of Regulatory Innovations Regarding the Delivery of Legal Services.
The resolution "urges its members to consider regulatory innovations that have the potential to improve the accessibility, affordability and quality of civil legal services, while ensuring necessary and appropriate protections for the public." With the adoption of this resolution, CCJ adds its voice to the chorus calling for solutions to close the justice gap and rethinking the current regulatory framework to improve and expand the legal services offered to the public. Even though the task of regulating the profession is often delegated to state bars or bar associations, it is state supreme courts that are ultimately responsible for regulation over legal services, and IAALS applauds the leadership shown by the CCJ in adopting this resolution.
Resolution 2 is the critical next step towards bringing legal services within the reach of the people who need them. Back in 2015, ​CCJ set the self-proclaimed aspirational goal of "100 percent access to effective assistance for essential civil legal needs through a continuum of meaningful and appropriate services." Yet the justices now concede a key point made earlier this year by LSC President Jim Sandman that traditional solutions, such as increased funding for civil legal aid, pro bono work, and court assistance programs, have been undoubtedly helpful but ultimately are not anywhere enough to close the ever-widening justice gap.
In some ways, this Resolution 2 affirms some of the bold steps taken in some states already. The resolution acknowledges that several states are already experimenting with regulatory innovations, and that this experimentation with different approaches "provides a measured approach to identify and analyze the best solutions to meeting the public's growing legal needs." Indeed, as part of IAALS' Unlocking Legal Regulation project, IAALS is partnering with the state of Utah to create, implement, and evaluate a regulatory sandbox, which will provide invaluable data as to how states may allow individuals other than lawyers to provide certain legal services while also protecting consumers.
To further the conversation on regulatory reform, IAALS and the University of Denver Sturm College of Law will co-host a series of speakers on the future of legal services, culminating with panel on April 29 featuring Justices Melissa Hart of Colorado, Deno Himonas of Utah, and Ann A. Scott Timmer of Arizona—three states who are, like the resolution references, currently considering major regulatory reforms. The justices will share the challenges they've witnessed in their respective states' reform projects, common issues that have arisen during these efforts, and their own aspirational goals for the new and distant future.
We hope states will look to the CCJ's adoption of Resolution 2 as an indication that regulatory innovation is important, imminent, and, perhaps, one of the best chances we have at achieving that aspirational goal of justice for all.