Federal Pro Se Clinic in Colorado Helps the Public Navigate Our Federal Courts
March 30, 2021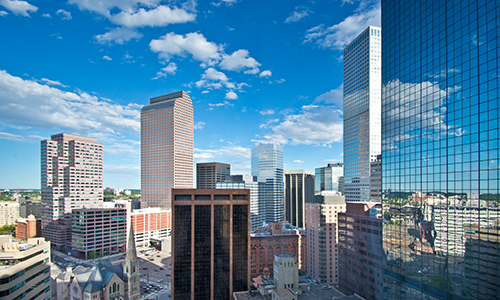 Consider this hypothetical. Charles Trestle started working for Reliable Trucking in Colorado Springs as a part-time dispatcher when he was 20 years old. He worked his way up to vice president in charge of western trucking operations, a job he has held for more than 10 years. He loves his job and has raised a family of four children with his wife, LeAnn, who works as a certified nursing assistant at a hospital. Charles just turned 62. His boss, the company's new president and son of its founder, has begun asking him a lot of questions about retirement. Charles has no current plans to retire. He and LeAnn have saved a little money but neither wants to stop working. Their health is good (although Charles had a heart bypass two years ago, he has recovered), and they enjoy their children and grandchildren and the balance they've struck between their home and working lives. Charles takes great pride in Reliable and in his career with the company.
A few weeks ago, company president Tyler Mann stopped into Charles's office and asked him to talk to some employees on the loading dock who were in a heated argument about scheduling—"if you think you can handle that." Charles said that he could and took care of the issue. Later that day, Mr. Mann made a comment in a company meeting about the dispute and said, "I had to ask Charles to go down there because all the young guys were busy. I was crossing my fingers that he wouldn't keel over." On the following day, Suzette Mann, the company HR manager and wife of the president, called Charles about signing some retirement papers. When Charles asked what she was talking about, she said that her husband had told her that Charles was retiring and his last day would be Friday. Charles immediately went to see Mr. Mann, who said that "it's time" and "you knew this day was coming" and that "we just need someone with more energy in the job." When Charles said that no one had mentioned any problems with his work, Mr. Mann responded, "It's not about that. It's just time for you to start enjoying life and your grandkids more. Nobody wants you to have another heart attack." Tyler added that Charles could accept severance pay or he would be fired. Charles declined the severance pay because he would have had to sign a release agreeing not to sue the company. He talked it over with LeAnn and they decided that they weren't going to let the company get away with treating him this way after 42 years of service. Charles's last day at the company was two weeks ago. There was no retirement party.
Charles spent the next week talking to lawyers, but he hasn't been able to find representation. A few of them said they were worried about legal costs because the company is relatively small and Charles's damages are low, although they believe he has a case. One of them mentioned that his case should be filed in federal court. Charles has limited financial resources, no legal training, and is worried about the strain of trying to represent himself in federal court. Will Charles have to give up on pursuing his legal rights?
Not anymore. Since June of 2018, the Colorado Bar Association Federal Pro Se Clinic (the Clinic) has been helping people like Charles navigate the overwhelming process of filing and pursuing a lawsuit in federal court without a lawyer. The Clinic's physical home is on the first floor of the Alfred A. Arraj United States Courthouse in Denver, but many clients are assisted by telephone. The Clinic is operated with funds provided by biannual attorney assessments collected through the United States District Court for the District of Colorado. Leslie Kelly, the current FPSC Managing Attorney, explained that the Clinic is run with the help of Case Management Coordinator Robbin Lego, CBA Access to Justice lawyer Mia Kontnik, a varying number of law student interns, and a robust corps of attorney volunteers. Charles Trestle is a typical client, as approximately 40 percent of the people who seek help have employment-related claims. Another 30 percent pursue civil rights claims, and five percent want help with social security claims. More than 95 percent of FPSC clients are plaintiffs who are attempting to file lawsuits to vindicate their rights. Importantly, Clinic clients get help at no charge.
As Ms. Kelly explained, although Clinic clients come from all walks of life, most are financially challenged. When clients contact the Clinic about a problem, staff and volunteers get to work. Some clients are steered towards administrative or non-legal processes that are more likely to meet their needs. Others are provided with answers to questions about court rules, procedures, and orders, and some may be advised not to file a lawsuit. All get a chance to discuss their problems with knowledgeable advisors. "I really like getting to know the individuals we serve," Ms. Kelly said. "We do get to know their issues and can hopefully develop trust with them. We want to be a resource for them—win, lose, or settle."
The Clinic has kept its doors open, albeit virtually, throughout the COVID-19 pandemic. Staff and volunteer attorneys have been handling around 15 appointments per week, and the average client has between two and three meetings with Clinic personnel. Use of the Clinic has increased substantially in the time it has been in operation, and all signs point to increasing demand for pro se assistance. Recently, the United States Bankruptcy Court for District of Colorado has opened its own pro se clinic, again with the help of the Colorado Bar Association. Attorney Matt Skeen is in charge and looks forward to providing the same level of service as the FPSC.
The United States District Court for the District of Colorado has one of the busiest civil dockets in the country, approximately 25 percent of which consists of pro se litigation. Judicial officers routinely refer pro se parties to the Clinic for help. "The value of the FPSC cannot be overstated. Clinic staff and volunteers truly empower pro se litigants and aid them in having a fair opportunity to present their case," said United States Magistrate Judge S. Kato Crews. "We see the difference in the work product of these litigants, and in their demeanor before the court." The FPSC has made a difference to the Clerk's Office as well, as employees can refer pro se filers who need help to the Clinic, instead of trying to provide assistance without giving legal advice.
The Clinic's ability to handle client demand is enhanced considerably by attorney volunteers who meet with clients, explain forms, and answer questions. Former high school teacher and current patent litigator Paul Cha began volunteering at the Clinic in 2019. He noted that he "really feels useful" after finishing each of his volunteer shifts. Mr. Cha has assisted clients with First Amendment (free speech) cases, employment discrimination cases, and a property dispute. "The people who come in just want someone to help them tell their story better," he commented. The opportunity to consult with lawyers on how to do that is priceless.
For litigants like Charles Trestle, the Federal Pro Se Clinic is a resource unlike any other. There he can speak to lawyers about his case, get assistance with forms and answers to questions, and do so without financial obligation. The Clinic also allows lawyers to use their skills to help people in need, and enhances the ability of the court to process cases efficiently and effectively. It's a big win for justice all the way around.