IAALS Announces Scott Bales to Step Down, Launches Nationwide Search for Successor
Associate Director of Communications
Associate Director of Marketing and Public Relations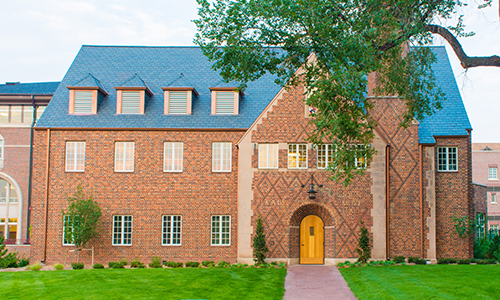 IAALS, the Institute for the Advancement of the American Legal System at the University of Denver, announced today that Scott Bales, its Executive Director, will step down effective July 31, 2020.
Bales said he has been honored to lead IAALS over this past year but has concluded that IAALS will benefit by having an Executive Director who resides in Denver, which his family circumstances preclude. Bales retired from Arizona's Supreme Court in 2019 and has been commuting between his home in Arizona and the IAALS office on DU's campus. "Working with the tremendous team at IAALS to improve our legal system has been a wonderful experience. We have accomplished much together, and I look forward to continuing to support those efforts—and the next executive director—in new ways from Arizona."
Sam Walker, the chair of the IAALS Board of Advisors, said that during Bales' tenure—in a year of unprecedented challenges—IAALS had successfully launched new initiatives, including the Unlocking Legal Regulation project, which aims to promote greater access and innovation in the delivery of legal services, as well as the US Justice Needs survey, which soon will assess the justice needs of people and businesses across the country, including needs arising from the COVID-19 pandemic. In the last year, IAALS has also increased its financial resources and expanded its communications efforts and national profile. "Scott's leadership has been a gift for IAALS. He will stay a friend of IAALS and we are grateful to him," said Walker.
Walker, who serves as Executive-in-Residence for Colorado Attorney General Phil Weiser, has been appointed by the IAALS Executive Committee to serve as Interim Executive Director while IAALS conducts a nationwide search for the position. He will return to his IAALS board chair role when the Executive Director position is filled. Walker has advised the Executive Committee that he will not be a candidate for the position.
IAALS was founded in 2006 by University of Denver Chancellor Emeritus Daniel Ritchie, Denver attorney and bar leader John Moye, business leader and philanthropist Charles C. Gates, and former Colorado Supreme Court Justice Rebecca Love Kourlis, who stepped down from the bench to serve as IAALS' first executive director. Driven by concern over a legal system increasingly under attack from outside forces—a system that was often failing to deliver justice—the group established IAALS to focus on independent, non-partisan, research-based reform for the nation's civil justice system.