IAALS Announces Six Renowned Leaders Joining the Board of Advisors
September 6, 2023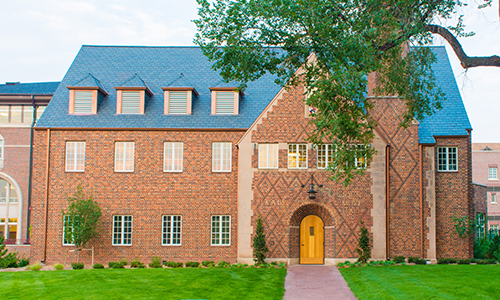 IAALS, the Institute for the Advancement of the American Legal System at the University of Denver, is excited to announce the appointment of six new members to its esteemed Board of Advisors. Their diversity of perspectives and expertise will further strengthen our work to achieve a modern, just, and accessible legal system.
"The addition of these distinguished individuals to our board underscores IAALS' value and impact in the national movement toward a better legal system for all," said IAALS CEO Brittany Kauffman. "We are grateful to have them join our ranks during an incredible year of momentum and growth for IAALS. Their collective experience and dedication will continue to propel IAALS' work toward lasting, positive change in our justice system."
Sonja Ebron, CEO of Courtroom5: Ebron brings to IAALS an unparalleled dedication to access to justice with a unique perspective as a Ph.D. electrical engineer. As one of the driving forces behind Courtroom5, she has woven together her technological expertise and personal experiences to empower countless individuals in representing themselves in court. With a seat on the Leaders Council of the Legal Services Corporation and recognition as a "Legal Rebel" by the American Bar Association, Ebron's background, insights, and eye for innovation will be invaluable to IAALS.
Joey Orduna Hastings, CEO of the National Council of Juvenile and Family Court Judges (NCJFCJ): Hastings boasts a multifaceted legal career with a strong focus on family law, which she formerly brought to IAALS' Family Justice Advisory Committee. Initially starting her career at NCJFCJ, which she now leads, she has also done legislation coordination for Governor Brian Sandoval and held key administrative positions within Washoe County. Her intimate understanding of both legislative and judicial processes, and the complex landscape of family law, promises a profound contribution to the Board's discussions and strategies.
Judge Leslie E. Kobayashi, United States District Court for the District of Hawaii: Judge Kobayashi's dedication to public service and judicial leadership is a benchmark for an active and engaged judiciary. Nominated by President Obama in 2010 after serving as a U.S. Magistrate Judge for over a decade, she brings vast experience from the bench to IAALS. Judge Kobayashi is also an engaged member of her local and broader legal communities and serves on various Ninth Circuit committees and as its judge representative to the Judicial Conference of the United States—and we look forward to her engagement with our Board.
Stacey Marz, Administrative Director of the Alaska Court System: Marz is a visionary who recognizes the potential of technology in democratizing justice. Her previous roles in bridging the access-to-justice gap, including leading remote self-help services, ADR, and language access services, highlight her commitment to making the legal system more approachable and available for everyone. With many people-focused initiatives underway, and her involvement across numerous national committees including co-chairing the COSCA/NACM Joint Technology Committee, Marz's passion for innovative access solutions will undoubtedly strengthen IAALS' mission.
Chief Justice Bridget Mary McCormack (Ret.), President & CEO of the American Arbitration Association-International Centre for Dispute Resolution: Chief Justice McCormack's illustrious career speaks of her commitment to transforming the legal arena from all angles. From her tenure on the Michigan Supreme Court to her influential roles in various legal councils and commissions, McCormack has consistently championed innovation. A recognized educator and speaker, her work to improve legal education, access to justice, and the legal profession's future made her a natural fit for IAALS' 2023 Rebuilding Justice Award and now our Board of Advisors.
Lucy Ricca, Executive Director of the Deborah L. Rhode Center on the Legal Profession: Lucy Ricca has been at the forefront of reforms across the legal system and profession, including efforts to increase innovation, market diversification, and access to justice. As a close project partner, having worked previously with IAALS as a special projects advisor, and as the first Executive Director of the Utah Office of Legal Services Innovation, Ricca's in-depth understanding of the profession's complexities—and the landscape for reform—will provide a critical perspective to IAALS' work.
"These new additions to IAALS' Board of Advisors are national thought leaders in legal innovation," said Jim Sandman, Chair of IAALS' Board of Advisors and President Emeritus of the Legal Services Corporation. "They bring a variety of perspectives and a commitment to rigorous, objective research and evaluation that will enrich IAALS' work."
For more in-depth details about IAALS' Board of Advisors, please visit iaals.du.edu/iaals-board-advisors.