The IAALS Out-of-Court Model and the Education of Future Family Lawyers
August 15, 2019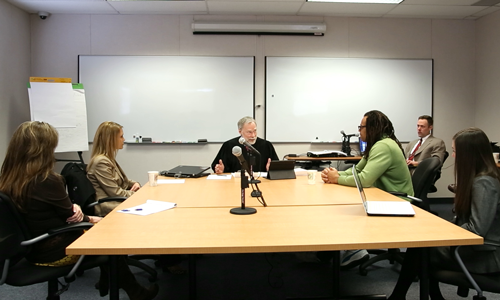 Innovations in the delivery of legal services can also be laboratories for testing innovations in legal education. When it comes to innovative legal services, IAALS developed two centers for families to receive legal and supportive services outside of the court system that were in operation from 2013 to 2017: the Resource Center for Separating and Divorcing Families at the University of Denver and the Center for Out-of-Court Divorce in the Denver community. A recent publication, Divorcing Together: Report on an Interdisciplinary Out-of-Court Approach to Separation and Divorce, documents the model behind these IAALS centers, which helped families navigate the divorce process and was shown to "improve family circumstances in terms of parental decision-making skills, communication and conflict strategies, and co-parenting skills, as well as decreases in acrimony and parenting stress."
Here, I will focus on the innovations in education that spring from the IAALS model and the effect on the law students who participated in the on-campus center—a benefit not explored in depth in the report. For about two of its four years in operation, the service model was delivered by carefully supervised law, social work, and psychology students at the University of Denver. For the other two years, the model was delivered by licensed professionals based off campus in the community.
The report documents that, for practical purposes, the carefully supervised students and licensed professionals were equally effective in delivering services to separating and divorcing families and their children. This finding should provide some reassurance to those who might be concerned that law students are not as capable as more mature professionals of working with families in transition.
The report also documents the benefit to families from participating in the IAALS services provided at the centers. It does not, however, address the question of what educational benefits the law students were provided by working with the families. Legal educators typically divide an answer to that question into three components: improvement in knowledge, skills, and values. Empirical evaluation of the on-campus center's educational outcomes, though based on a small sample, plus observation of and discussion with center students, suggest the following "bullet points" for law student learning in each category:
Knowledge
Law of divorce and parentage (grounds, property distribution, spousal support, child support, post-divorce parenting)
Law and ethics rules of mediation, therapy, and interdisciplinary practice
Mental health knowledge surrounding divorce
Financial planning concepts associated with divorce and separation
Skills
Counseling: identifying options and promoting long-range thinking and problem-solving skills in clients
Mediation
Drafting agreements
How to be part of a collaborative team
Values
Emphasis on problem solving and counseling rather than litigation
Importance of collaboration with other professions
Promoting access to justice
Belief that positive change in the legal system is possible
Not all law students achieved these educational outcomes to an equal degree, and individual students do not fall neatly in a single category. However, it is hard to come up with a better list of what we want law students interested in family law careers—who become future lawyers, judges, legislators, and community leaders—to learn in a family law course. What the students learned at the on-campus center was similar to what they would have learned in a good law school clinic. Instead of a focus on client representation and courtroom skills, however, law students focused on mediation, interdisciplinary collaboration, and problem-solving.
The experiential education provided to the law students at the center is a model for what family law education can—and should—accomplish. We are trying to capture the same experience for law students at my own law school in a family mediation practicum, and a small number of other law schools also have excellent family mediation-based clinical programs. This education is expensive and intensive, but worth it—an investment in the future of family law and the parents and children it serves.
Dive Deeper
IAALS developed an interdisciplinary out-of-court model to provide a comprehensive set of legal and therapeutic services to separating and divorcing families. The model provided families the opportunity to complete the divorce process without ever having to go to court. This report presents insights into the model as well as data from a robust evaluation on how the Center for Out-of-Court Divorce operated.
Read More