Latest IAALS Reports Give Voice to Growing Numbers of Self-Represented Litigants
June 8, 2016
"Cases Without Counsel: Experiences of Self-Representation in U.S. Family Court" Presents Panoramic View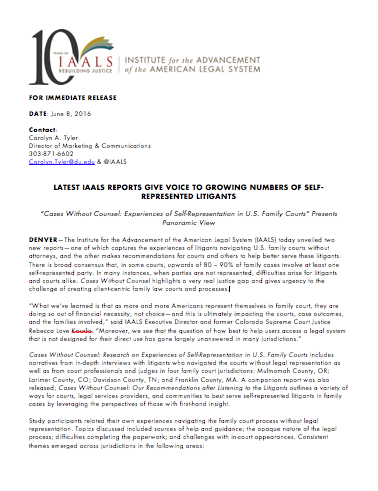 The Institute for the Advancement of the American Legal System (IAALS) today unveiled two new reports—one of which captures the experiences of litigants navigating U.S. family courts without attorneys, and the other makes recommendations for courts and others to help better serve these litigants. There is broad consensus that, in some courts, upwards of 80–90% of family cases involve at least one self-represented party. In many instances, when parties are not represented, difficulties arise for litigants and courts alike. Cases Without Counsel highlights a very real justice gap and gives urgency to the challenge of creating client-centric family law courts and processes.
"What we've learned is that as more and more Americans represent themselves in family court, they are doing so out of financial necessity, not choice—and this is ultimately impacting the courts, case outcomes, and the families involved," said IAALS Executive Director and former Colorado Supreme Court Justice Rebecca Love Kourlis. "Moreover, we see that the question of how best to help users access a legal system that is not designed for their direct use has gone largely unanswered in many jurisdictions."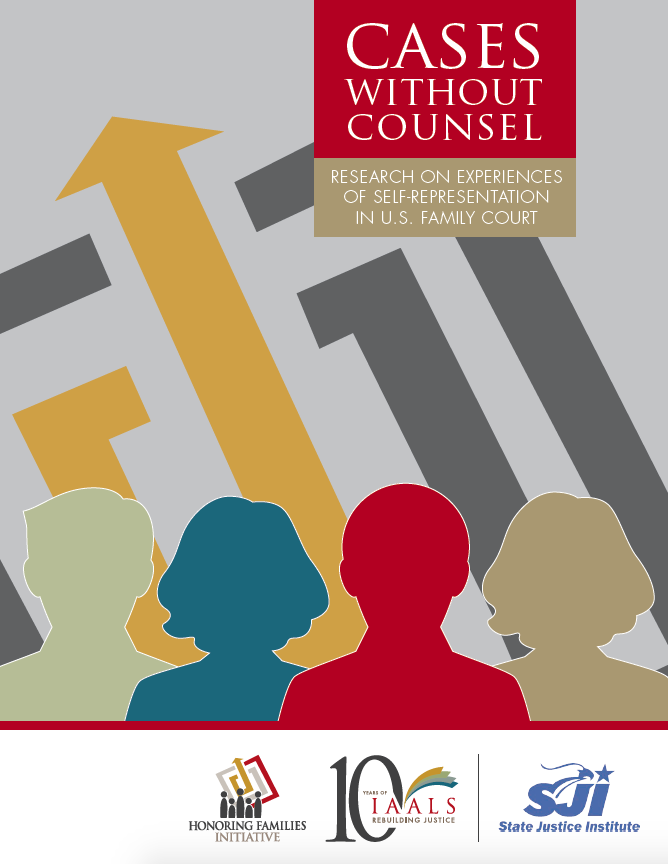 Cases Without Counsel: Research on Experiences of Self-Representation in U.S. Family Court includes narratives from in-depth interviews with litigants who navigated the courts without legal representation as well as from court professionals and judges in four family court jurisdictions: Multnomah County, OR; Larimer County, CO; Davidson County, TN; and Franklin County, MA. A companion report was also released; Cases Without Counsel: Our Recommendations after Listening to the Litigants outlines a variety of ways for courts, legal services providers, and communities to best serve self-represented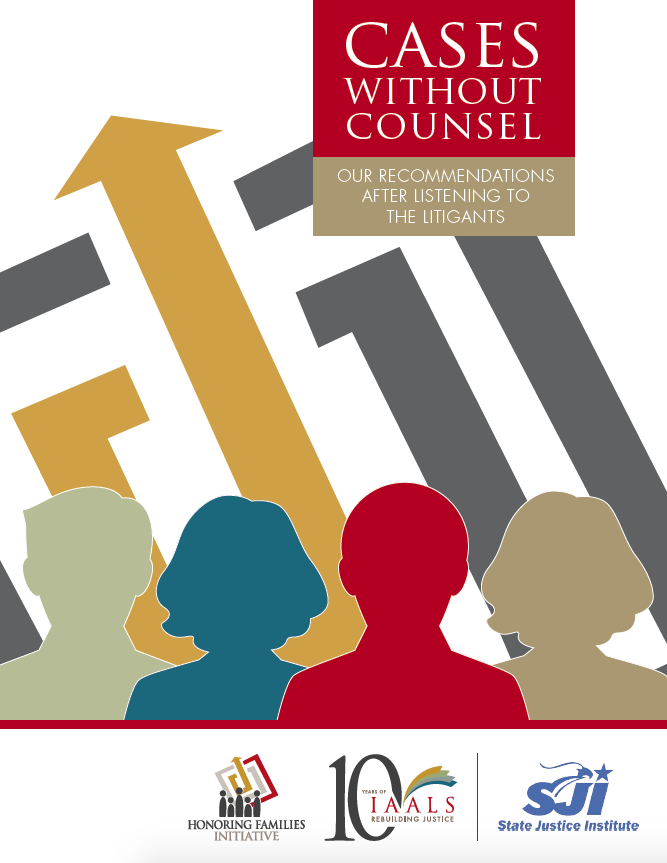 litigants in family cases by leveraging the perspectives of those with first-hand insight.

Study participants related their own experiences navigating the family court process without legal representation. Topics discussed included sources of help and guidance; the opaque nature of the legal process; difficulties completing the paperwork; and challenges with in-court appearances. Consistent themes emerged across jurisdictions in the following areas:
1) Reasons for Not Having an Attorney: Self-represented litigants in family court largely desire legal assistance, advice, and representation. However, they find that it is not an option due to the cost and/or because of other financial priorities. Litigants believe attorney services are out of financial reach, while free and reduced-cost services are often not readily available. Several court workers described the shift toward self-representation as having occurred largely when the market turned in the last recession.
"I had just given up half of everything I'd ever owned. . .I also had a hefty mortgage payment that nobody else was helping me with, and helping kids with college. . .So, I didn't have the money to get an attorney," claimed one individual who navigated family court without an attorney. "People don't have ready cash for the retainer, so even if they could potentially afford it over time, they don't have the money that a lawyer wants to get into a case," said a judge interviewed for the study.
2) The Family Court Process from the Litigant's Perspective: Bringing difficult family situations to a formal courthouse without attorney assistance can leave litigants feeling intimidated, isolated, and vulnerable. They grapple with understanding the flow and stages of the process and what is expected of them, and describe feeling lost.
"If you were going on a trip, you would get a map and you would know where you were going. You would have a destination. You would know the route you were taking. The most stressful part is that I really didn't have an understanding of that until almost the end of the process," reported one self-represented litigant.
3) Impacts of Self-Representation: Study participants reported feeling disadvantaged as compared to represented parties. Self-representation can negatively impact the outcome of the case, which in turn can directly affect children in family law cases according to judges and court staff. Going to court without an attorney can also add substantial stress and anxiety to an already taxing emotional period. A handful of study participants recognized that the emotional issues they were experiencing also compromised their ability to think clearly and prepare. Although negative emotions and feelings prevailed, some litigants did express a feeling of empowerment in retrospect.
"We must change the conversation on self-representation, away from a piecemeal stakeholder-by-stakeholder response and towards a comprehensive strategy in which all stakeholders—court, legal, and broader community-partners—have a voice. We have a shared responsibility to ensure that litigants without lawyers can meaningfully access our nation's family courts and that our system of justice is more client-centric," concluded Justice Kourlis.
"All I want to do is make a good decision based on all the information, especially with respect to kids. I often feel like I just don't know enough and so I'm shooting in the dark. But I have to make a decision. So that's frustrating," said one judge.
Click here for more about Cases Without Counsel and to download the publications.
Dive Deeper
All too often, litigants are left out of conversations on improving the legal process. This study asked self-represented litigants in family court about their experience with the legal process.
Read More