Listen > Learn > Lead: A Guide to Improving Court Services through User-Centered Design
January 30, 2019
This time last year, the Court Compass project team was in Boston, Massachusetts, wrapping up the prototype test of the first Court Compass design sprint. Working alongside our project partners Margaret Hagan, Dan Jackson, and Lois Lupica, we went on throughout 2018 to host a number of additional design sprints around the country: another in the Boston area; one in Des Moines, Iowa; one in Raleigh, North Carolina; and one in Denver, Colorado.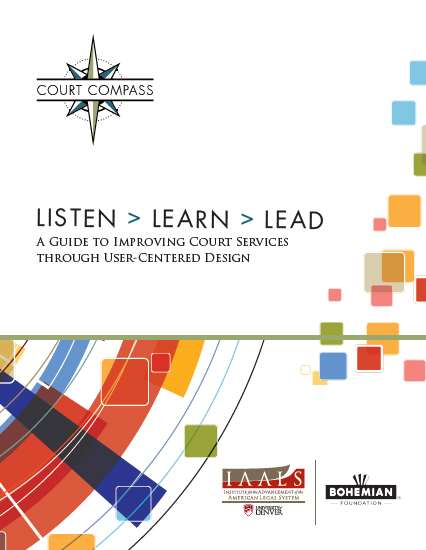 Our intent with these design sprints was to engage court users—particularly self-represented litigants—in the process of working toward the Court Compass project's larger goal: simplifying the divorce and separation process. The 2016 IAALS Cases Without Counsel study, which set the foundation for the Court Compass project, highlighted two important realities for our work at IAALS—and the work of justice system stakeholders more broadly.
First, court users are the experts when it comes to identifying problems and tension points that they experience in the court process. Second, because of this frontline perspective, court users are uniquely positioned to play a meaningful and constructive role in exploring process improvements. Users have long been left out of conversations about rules and procedure reform. But not anymore. 
Courts around the country are joining onto this movement of engaging users in process reform, of designing processes around the people who must use them. In Massachusetts, Iowa, North Carolina, and Colorado, court leaders at all levels were eager to learn more from their users about what could be improved. These partners made the sprints possible and successful; these partners demonstrated a critical commitment to giving court users a voice. 
The interest from courts in having a Court Compass design sprint in their area was substantial, and we were not able to host a sprint in all the states that wanted to participate in the project. To empower other state and local courts to conduct sprints on their own, the Court Compass project team developed a resource guide based on our experience. Listen > Learn > Lead: A Guide to Improving Court Services through User-Centered Design will help courts understand the foundation of design sprints as a vehicle for engaging users and rapidly testing solutions and assist courts in planning for and executing a sprint. While the Court Compass design sprints were focused on divorce and separation cases, the guidance in Listen > Learn > Lead is applicable to all kinds of civil and family case types, and the processes and tools in the guide can be applied by broader justice system stakeholders, as well as court systems.
We hope this guide will be widely used to bring court users into process reform conversations in a more systematic way. And on that note, we would be remiss if we didn't thank each and every self-represented litigant who took the time out of their busy schedules to participate in the Court Compass sprints. You are the reason we do this work. We couldn't have done this without you. Thank you.