Back to IAALS Staff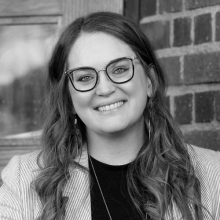 Logan Cornett serves as IAALS' Director of Research. In this role, she works closely with IAALS leadership and programmatic directors in developing research questions for investigation, designing and conducting studies to answer identified research questions, and manipulating and analyzing both quantitative and qualitative data sets.
In addition to her role in research, Cornett directs IAALS' programmatic work in the areas of legal education and licensure, including efforts such as implementing outcomes-based education in law schools, establishing an evidence-based definition of minimum competence, and developing performance-based approaches to licensing lawyers.
Cornett came to IAALS in August 2011. Prior to that, Cornett worked as a research methods instructor and laboratory manager at Oregon State University, as well as in outcomes management at Texas Tech University Health Sciences Center.
Cornett graduated summa cum laude with a BS in Psychology from Oregon State University. Cornett has also completed graduate-level coursework in law at the University of Denver Sturm College of Law, and a Master's in Research Methods and Statistics is in progress at the University of Denver Morgridge College of Education.