Legal Education, Get Ready for Regulatory Reform
March 11, 2020
Editor's Note: This is the first blog post in a series covering the intersection of legal education and regulatory reform. Re-regulation presents an opportunity for law schools to be a part of shaping the future of the legal profession, and IAALS endeavors to engage with all critical stakeholders through our Unlocking Legal Regulation project.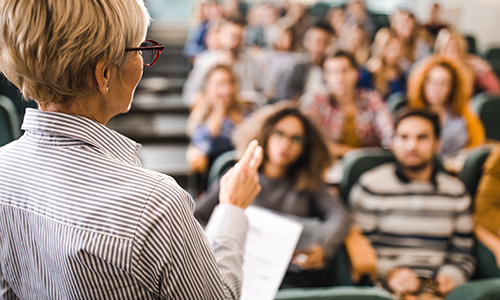 My Twitter feed is abuzz with hopeful speculation about the disruptive potential of regulatory reform efforts taking place in a handful of states. California, Utah, and Arizona are trailblazing, and other states are rapidly forming their own task forces to examine the feasibility of regulatory reform in their jurisdictions. The Conference of Chief Justices and the American Bar Association recently issued resolutions encouraging all U.S. jurisdictions to consider data-driven regulatory innovations. Advocates of regulatory reform efforts are increasingly confident that they have reached a tipping point and that re-regulation is about to take hold, bringing with it new pathways to justice.(1)
The problem is that my Twitter feed is an echo chamber of legal innovators, and so is much of the conversation around regulatory reform. Lawyers who are paying attention are often opposed to the regulatory reform effort, and most everyone else is tuned out.(2) From my perspective as the director of a law school innovation lab, legal education is disengaged from the regulatory reform effort: only a handful of legal academics have chimed in on regulatory reform or been involved in task force efforts. But legal education should join the conversation and prepare for the changes ahead, for several reasons.
First, one key strategy in the regulatory reform movement is to permit new tiers of legal service providers to operate without a JD. For legal education, there is a risk to be aware of here: will there still be a market for JD degrees in a future where Americans can obtain services from a licensed paraprofessional? The answer is yes, but legal education needs to think now about how to deliver value in a JD degree. There is also an opportunity: these new tiers of service providers will need legal training, and legal education is uniquely positioned to provide it. Are law schools ready to be schools of justice, instead of schools of juris doctorates? Not yet.
Second, regulatory reform advocates (like IAALS) are offering assurances that their efforts will be data-driven and evaluated to protect against consumer harm. That sounds like a call for research, and scholars embedded in legal education institutions should heed that call. This will require collaboration between state court regulators, the organizations that step forward to offer new service delivery models, and legal scholars with empirical research skills. Legal education should be paying attention to those collaboration opportunities now, being explicit about how they can add value, and considering how this research can be a student learning opportunity.
Third, another key strategy of regulatory reform involves permitting lawyers and non-lawyers to co-own businesses that engage in the practice of law. With a few exceptions, legal education is not preparing its students for this interdisciplinary service model. Law students are generally siloed from other graduate disciplines, and do not have opportunities to build the relationships and collaborative skillsets that could translate into fruitful, innovative entrepreneurial efforts after graduation. Legal education should begin including cross-disciplinary training and networking opportunities into their educational programming, to better prepare their graduates for new models of legal service.
Finally, legal education needs to engage with regulatory reform because legal education institutions have relatively exclusive access to the future of the profession, and regulatory reform is looking to the future. This is the time to build pipelines for new models of justice, and reform efforts can only benefit from grounding those efforts upstream in legal education.
Endnotes:
1. The phrase "tipping point" has been invoked with respect to regulatory reform by many, including the Legal Executive Institute, Passmore Consulting, Law360, the Above the Law blog and the ABA's Law Practice magazine.
2. For example, according to data provided by the Office of Professional Competence, State Bar of California, during California's public comment period, comments were received from 760 lawyers (73% of whom opposed regulatory change) and 32 members of the public.