Electronic Filing in Colorado Family Law Cases Expands Amid Growing Trend
July 7, 2021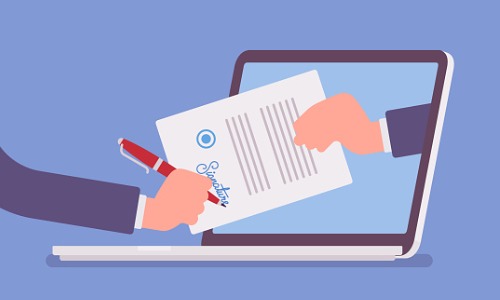 In May, the Colorado Judicial Branch announced that a pilot program allowing documents in family court cases to be filed online will expand to seven more counties.
The two-year pilot program allows online filing in divorce and custody cases where litigants lack legal representation—which accounts for about three-fourths of all family law cases in Colorado. Following the expansion, 25 of the state's 64 counties now allow documents to be filed through the Colorado Courts E-Filing system. The system includes an online dashboard that equips users to view filed cases, electronic documents that have been served, and upcoming court appearances and announcements.
Enabling e-filing is a simple yet effective way that courts can make proceedings easier for everyday people, and represents one of IAALS' Eighteen Ways Courts Should Use Technology to Better Serve Their Customers:
"A court's electronic filing process needs to be designed with separate, distinct interfaces for attorneys and governmental entities on the one hand and for self-represented litigants on the other. The former are frequent, high-volume users; the latter will typically employ the electronic filing process for a single case or even for a single document. An interface designed for self-represented litigants will prove to be completely unsatisfactory for high-volume users and vice versa, given the unique context and needs of these very different users."
The report provides additional guidance for courts around using existing technologies to improve the user experience, particularly for those representing themselves.
The need for expanded e-filing is echoed in the Self-Represented Litigation Network's Best Practices in Court-Based Programs for the Self-Represented report: "When designed to be easy to use for everyone including self-represented litigants, electronic filing (e-filing) systems can help litigants file pleadings more easily." The American Bar Association Standing Committee on the Delivery of Legal Services has noted that e-filing may help reduce court costs by making the process more efficient, too.
Making courts more accessible is important for everyone who needs to use our courts, but especially crucial for self-represented litigants, who often feel lost trying to navigate a system designed for attorneys. IAALS' Cases Without Counsel project, which examined the experiences of litigants who came to court without a lawyer for family law issues, found that self-represented litigants feel they're at a disadvantage compared to represented parties, that self-representation can negatively impact case outcomes, and that self-representation adds substantial stress and anxiety to an already taxing emotional period in the life of a family.
Fortunately, tools such as e-filing can make a huge different in self-represented litigants' experiences with the court system. A 2015 survey that received responses from nearly 550 self-represented litigants revealed that litigants felt e-filing was more convenient and less time-consuming. (However, it is important to remember, as recognized in a 2020 national study of virtual practices, that while virtual practices such as e-filing benefit many self-represented litigants, there are also many that view virtual services as a barrier or inconvenience due to their lack of available internet-enabled devices or unstable internet. For this reason, it is vital that courts provide avenues to participate both virtually and in person.)
In the last year, many courts began to implement or bolster their e-filing systems in order to keep the legal system moving amidst courthouse closures during the COVID-19 pandemic. The New Jersey Judiciary, which was in the process of developing an e-filing system when the pandemic hit, launched the program sooner in light of the courts' suspension of most in-person proceedings. Courts that didn't yet have the infrastructure for e-filing, such as Philadelphia's Domestic Relations Court and various magistrate courts in New Mexico, allowed for filing via email. And, in an effort to retain lessons learned throughout the pandemic, the Kentucky Supreme Court recently announced it will invest over one million dollars in an e-filing system.
The expansion of Colorado's e-filing pilot program hopefully marks a growing trend to create processes that keep all court users—not just lawyers—at the center. As courts grapple with the fallout from the pandemic, including case backlogs and pandemic-induced civil justice issues, tools such as e-filing will make a world of difference in equipping self-represented litigants and inspiring trust and confidence in our justice system.
Dive Deeper
This report provides a path forward to help courts use existing technologies to improve the user experience, particularly for those people who choose to represent themselves.
Read More