Voice Lessons: What We Can Learn by Listening to People Who've Been to Court
September 15, 2020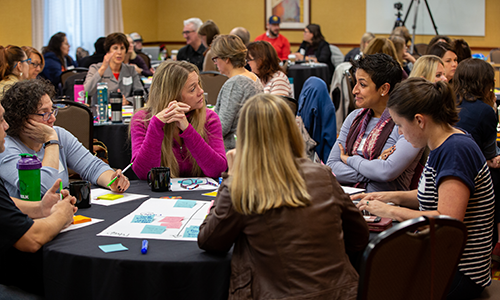 The Iowa farmer had some questions. Letter in hand, he called our number and got right down to business: "Is this legitimate? Is this for real?" It was a question I had heard numerous times before, but the tone varied between the callers—often skeptical or incredulous, occasionally wistful. The farmer opted for direct, so I answered him in kind: "It is, sir. It is."
"Okay, then," he said. "Tell me more."
The farmer had been invited to one of IAALS' workshops with recent divorce litigants, this one set in Des Moines in collaboration with the Iowa courts, and he wondered about several things when he received our request to join us. At the top of the list was, "Why would a research institute in Colorado want me at a workshop?" I explained that we wanted—no, needed—to hear the perspectives of those who had represented themselves without the help of an attorney in family court cases, and that his and others' experiences would lay at the heart of the workshop. Voices like his—voices of actual users of the courts—are all too often left out of civil justice reform conversations. The farmer went silent for a moment. Finally, he said quietly, "I didn't think anybody cared."
That sentiment was expressed by many of the self-represented litigants with whom I have spoken. Another frequent comment from our workshop participants was that they were truly excited by our work. IAALS does care—and we're excited, too. The same goes for the courts with whom we worked on the workshops and other courts across the country. In order for real change to happen and for family court experiences to improve, we all must work together.
Finding Your Voice
Justice, at its core, is a pure concept. But the pursuit of justice has been rendered complex and challenging. In our work at IAALS, we focus our efforts to reflect what we see as justice in today's terms: a legal system that is accessible, fair, reliable, efficient, and accountable—and one that includes the voices of court users in shaping its future. In short, justice we can believe in. IAALS seeks to invoke and inspire stakeholder participation by creating opportunities to work together and bridge divides toward that goal. By building relationships and fostering collaboration, we are helping to mobilize both the broader legal community and everyday people who depend on our courts in order to improve legal processes and the legal profession.
Self-help centers, plain language forms, and on-site assistance have been part of the courts' efforts to improve access to justice for self-represented litigants in many jurisdictions. But until our Court Compass project got underway, very few of the efforts included participation by self-represented litigants themselves. At our workshops, litigants collaborated directly with local judges, attorneys, and court administrators in an effort to fashion a better family justice system. They didn't play just a supporting role in this project—they were the stars of the show. Their voices were paramount.
Why is having a voice so important? Naturally, most of us use our voices on a daily basis. But voice, as a concept, means to give someone "individual agency and power, and to have a way to express his or her beliefs", as articulated by Molly Callahan in her article, "The Power of 'Voice' and Empowering the Voiceless." Researcher Christine Ashby adds, "voice is the right and the ability to make oneself heard and to have one's experiences and perspectives available to others." At IAALS, we are incredibly grateful for the opportunity to listen to and learn from those who have experienced our court system. In doing so, however, we are not "giving voice to the voiceless." The voices of self-represented litigants are not silent, inherently lacking, or in need of reconstruction or interpretation. The insufficiency lies in the efforts to seek out and listen to these voices. As one of the self-represented litigants who registered for our North Carolina workshop expressed, "I can't believe y'all are doing this. This is a great idea. I really will get to speak? That is amazing!"
The flipside to "voice," of course, is "listening." William Ury, an internationally known and highly regarded mediator and negotiator, is something of an expert on the power of listening, which he says is "the cheapest concession we can make. It costs nothing and brings huge benefits. It helps us connect and develops rapport and trust. How can you change a mind if you don't know where it is? Listening puts the spotlight on the other person. We put ourselves in their shoes; we listen within their frame of reference."
The Power of Voice
Through our Cases Without Counsel and Court Compass projects, I had the opportunity to speak with each of the self-represented litigants who answered our invitations. The most frequent question I heard from litigants was, "Will I really get to speak?" Its occasional follow-up was the even more poignant: "Will I really be listened to?" IAALS worked to ensure that the answer to both questions was, "Yes."
IAALS began its study of self-represented litigants several years ago with our Cases Without Counsel project, which examined the journey of self-represented litigants in family cases in four U.S. jurisdictions. We conducted detailed interviews with litigants, judicial officers, and court staff, during which we heard a great deal about the unique perspective of court users. As one of the judges remarked, "We make assumptions about litigants and what their needs are without truly, truly knowing what they are. And I think we all try to be very sympathetic to them, but we can't know their experience."
Our Court Compass project was the next step, in which we asked litigants to not only share their experience, but help us by making recommendations for improving the process of their local courts. We held workshops in five cities across the country and invited local judges, family law attorneys, court administrators, and a robust contingent of self-represented litigants to each one, where we facilitated small group discussions that enabled legal and non-legal users of the courts to work together.
The format and central focus of the workshops was grounded in design thinking, which helps guide organizational problem-solving by considering the needs of the people you're focused on. Design thinking leads to the development of improved human-centered services, products, and processes, and when it's done well, it accelerates the creation of innovative ideas while reducing risks—even as experimentation increases. In our Court Compass workshops, litigant participants collaborated with court insiders to develop legal process improvements that were both innovative and workable. By engaging a variety of stakeholders in each community where we held a workshop, IAALS was able to examine what worked for people navigating the courts and what didn't, as well as short- and long-term goals and thought-provoking solutions that ranged from the straightforward to the unconventional.
For most self-represented litigants, these interviews and workshops were the first time someone acknowledged that their court insights were valuable and that they had hard-earned experience to share. We asked participants to tell us how they felt about the opportunity to work alongside judges, court staff, and local attorneys who have the ability to transform the court process. Here is some of what we heard:
"That I'm not alone. That I have a voice. That my voice matters. Probably the most empowering thing I've done in quite a while." —C.A. (MA)

"I'm honored to be a part of it and honored that you're even taking litigants into consideration, and their values and their opinions and what they go through." — J.D. (MA)
Learning to Listen
In the wider world, businesses have come to recognize the importance of listening to their customers and engaging with their clients—and even encouraging them to engage with each other. Engaging stakeholders with a broad spectrum of voices in order to improve services, products, policies, and our communities is a movement with increasing traction. And, it should be at the heart of all justice system reform efforts.
At IAALS, we believe in the collaborative process and have scaled our model for all courts to use, so that they, too, can routinely get input from—and develop solutions with—real people in their communities. To do that, we have published Listen>Learn>Lead, a hands-on guide with suggestions for any courts, self-help centers, legal aid organizations, or others who serve the public and who want to engage the public more directly. Gauging litigant/customer satisfaction throughout the process, and how they feel about things like available court resources and services, is critical information. Courts and other organizations should also use this guide to engage the public in exploring ways to improve these services. The courts we've worked with have already begun this process—and the tools are available for more to follow suit.
I would like to offer one additional recommendation to those contained in Listen>Learn>Lead: Everyone is familiar with the three watchwords for real estate (location, location, location). To engage successfully with self-represented litigants, the key concept is respect, respect, respect. Approach the planning of a workshop with the goal of framing it and then filling in all the blanks with courtesy. Self-represented litigants often feel scarred from their legal ordeal—as it turns out, divorce is not the feel good, get-rich-quick plan everybody thinks it is. The court process may have proved "challenging," that loaded adjective I've admittedly used and that we're collectively committed to disguising as a positive, which in this context may really mean "disheartening, confusing, and frustrating from an all-consuming, resource-depleting effort."
To encourage engagement from self-represented litigants in our community, please give them what they craved all along: your time, your attention, and your respect. Then, everyone can get to the good stuff: speaking to each other, listening to each other, and learning from each other. As we're all aware, resisting other people's ideas can be a natural first response. The exchange of feedback can be difficult. However, our workshops have showcased what's possible when all of the participants—including judges, attorneys, court administrators, and litigants—listen, learn, and lead each other toward innovative ideas.
Todd Nuccio, the state court administrator for the Iowa courts and one of our partners in this project, had this to say after taking part in the Des Moines design sprint workshop:
"From the perspective of the state courts' administrative office, we view this as an opportunity to get the perspective of the users of the system so we can see it through their eyes, and gather information and get a better understanding of how the system can be improved and be more user-friendly. We can look at it from our perspective and say 'this is what we think', but we're making assumptions and don't really understand what the process looks like through the actual litigants' eyes. . . .  I always thought I had an understanding of how the system was actually being viewed by the litigants but this has opened my eyes to see that there are all sorts of experiences – it's not just one experience. I'm hoping it builds public trust and confidence in the fact that we really care about their perspective, their views, and we want to make it better for them."
Nuccio is right—we need many experiences and many voices. At our workshops, we had racial and ethnic diversity, gender diversity, and age diversity, with participants ranging from age 21 to age 69. We didn't ask what they did for a living. We didn't ask whether they voted for one party or another. We didn't ask whether they were born in the United States or elsewhere. We sought everyday people who had been through a family court case by representing themselves, and we found them. And, countless more, all across the country, are waiting to be found.
"Meeting" Face to Face
"How likely are you to recommend this court to your family and friends?" Surveys are, by design, simple, short, and direct—people probably wouldn't complete them otherwise. Surveys are easy for courts to conduct, which is why many courts use them regularly. But, what are the outcomes? What depth can you really learn? What actually changes from a survey? While it is encouraging that courts seek feedback from users, a short survey typically doesn't provide a comprehensive opportunity to learn about the experience of the court user in any detail.
Telephonic interviews are the next best thing. They are generally fruitful, but also time-consuming. You get more information and more insight into the person behind the answers, but you can't grasp the full picture unless you can actually see the person and spend some time with them.
That is why, historically, IAALS has promoted the concept of meeting face to face. To identify and bring to the surface the practices and policies—and even attitudes—that may be limiting the potential of our legal system, it's possible nothing can surpass the power of meeting in person. We focus more easily and we direct our attention better. We develop trust and confidence more quickly; transparency is attainable. Body language, such a vital part of human communication, has nowhere to hide. Meetings allow for emotional contagion and the spreading of positive feeling, such as laughter.
Self-represented litigants will not share their perspectives if there isn't trust. They can't attain trust if they're not respected. If they're not respected, they won't answer the call—literally or figuratively. Want to build a sense of community faster and more meaningfully? Bring people together.
This was all a relatively simple concept before 2020. Now, in the collective pandemic consciousness that will consume our reality for the foreseeable future, we must explore new ways to bring people together. COVID-19 will not sink this ship, but it will create waves for us to navigate in reaching the public and making them a part of the change we seek. COVID-19 also should not sink efforts by courts to improve—in fact, many courts have responded in rapid and inspiring ways in their efforts to transition to providing remote services to court users. In many cases, they transformed from in-person facilities to a remote access presence in a matter of just a few days.
Luckily, technology is at our fingertips. Videoconferencing and Zoom calls are the new norm—a norm embraced by our court system. While we won't have the same level of interaction, face to face is still possible. We can see each other and get glimpses of those in-person aspects that are so vital to personal connection. We can still be together and work toward a greater purpose.
But, we must remember that technology isn't always as easy or available as we might think. Access to high-speed internet may be limited for those of more modest means and those in rural areas. Accessing and using technology can be problematic for older populations. Today, when engaging the public, the goal of diverse voices must be maintained, but our approach to reaching that diversity may be diverse itself.
And as the dust settles and the danger passes, meeting in person can once again be prioritized.
Establishing Justice
Our Iowa farmer really wanted to attend the Des Moines design sprint workshop. But it was two hours from his home and the gas for an old truck's journey put it out of reach. He had begun our conversation with direct questions, and he closed with some thoughts that were equally to the point: keep doing what we're doing. It's important. He'd love for us to help him find another way to participate in our efforts (which we did) and then he thanked us "for caring about and listening to what people thought."
It was a short leap in my mind from the farmer to the framers. Over two hundred years ago, they had not wasted words, either, leading with a stinging three-word opener: We the People. And fewer than 20 words into the U.S. Constitution, they declared a succinct goal we're still working to perfect today: to Establish Justice. But how do we get there, to this state of justice?
The short answer is: together.
Because "We the People" are in this together, today and tomorrow. We, the people, are all "users of the courts" even if we haven't had a single legal case or worked in the judicial system. We all live under the application of case law or common law, and there is always the chance we will need help from the courts. Not with a "death and taxes certainty," yet we still like to live secure in the knowledge that the court system is there and functioning well. We need to know justice is a real thing, even if, as is true for so many of the most important things in life, we don't really stop and get a sense of it until it's threatened or restricted. 
Dedicated judges, attorneys, and court administrators have the power to establish justice in our modern time. They can help remove barriers to access and help improve the functionality of our courts, to the benefit of everyone—especially people facing legal issues without the benefit of counsel. They have the tools of reform in hand, and they're all experts in their own way—experts who can listen to and learn from each other, and together establish something we all want—a legal system that reflects, embodies, and promotes justice. The bedrock of our judicial system is the trust the public places in it. By gathering the input of those who use the court system, who rely on it to decide some of the most important issues in our lives—like divorce and child custody—we help ensure that the courts function in a way that serves all of us.
To the users of the court who participate in our research, our workshops, or our interviews, we at IAALS are so grateful. We approach these projects with our ears wide open, setting aside pre-conceived notions about what we might hear, or what you might have to say. You continually amaze us with your insights, your passion, your creativity, and your oft-expressed desire to help those who will follow you through the court system. You answered questions on what you wished you had known ahead of time, or what you might do differently next time, all the while knowing these are hypothetical considerations. You did this because you know the next wave of self-represented litigants is not hypothetical. People will come to court, hoping for a workable process and a fair shot at justice. It's a reality we are closer to, because you have shared your experiences and your voices with us.